Standard Chartered KL Marathon 2010 21KM Race Report
*UPDATE* According to a 10 KM runner's posting on Facebook, someone actually died in this morning's 10 KM event in the Standard Chartered KL Marathon 2010. The runner developed problems during the run and there was difficulty getting help. Unfortunately by the time they got him to the hospital, he passed away. This is a very sad thing as last year, I was personally contacted by a friend of the late Gary Robert, who was found dead in the basement of Stadium Shah Alam (venue) after being reported missing in the Adidas Run.

Here are some tips, if you are going to run in a race (for the first time especially) go get a medical check up and don't forget to train. Do not underestimate the distance. If you are a race organizer, isn't it your responsibility to ensure that your personnel/volunteer staff are at least trained to deal with emergencies or know who to call? I'm pretty annoyed considering that it was a pretty good race (see my post below) marred by incompetency on part of the organizers in this case and while I really do want to give a benefit of a doubt but since everyone is blaming the organizer, has anyone ask questions about the runner? With all respect to the dead guy, did he pass a medical? Was this his first time? Was he pushing too hard? Arghhhh….
This was pretty early for me, a 6.15 a.m. race in the heart of KL. The race started on time at Dataran Merdeka and after half an hour of running I was on Jalan Syed Putra passing the first water station which was really jammed pack. The organizers did a pretty good job with the water/sponging stations, placing them about every 2 kilometers after the 4th kilometer, and there were portable toilets too!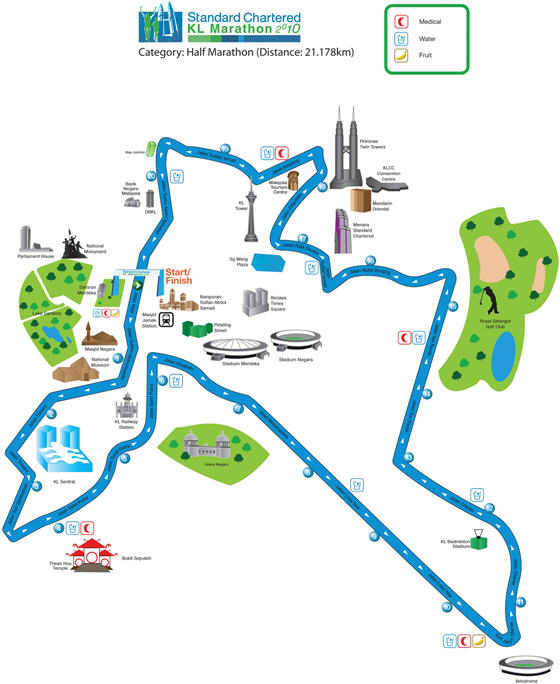 We then ran into Jalan Loke Yew and seriously, I caught the smell of bak kut teh (a Chinese dish) around this area. This crazy long stretch (it nearly drove me mad, I don't really like running in this manner), led into Jalan Cheras. I realised that at this point of time I was going too fast (10 kilometers in 1 hour 10 minutes). I stopped to walk several times during the Jalan Cheras-Jalan Tun Razak stretches and while this became a trend, it lessened when I was in the Bukit Bintang area.
The 21 KM route is really like a sight seeing tour on foot. Passing by the party area of Jalan Sultan Ismail, we ran pass KLCC and then Zouk. I really like this race since I was really going under my previous 21 km time by the time I reached the finishing line at Dataran Merdeka. Time? 2 hours and 42 minutes, a whole 14 minutes shorter than the time I recorded at the Putrajaya night race (2 hours 56 minutes).
Powered by

Sidelines
Previous Post Boostball (iPhone) Review
Next Post Pro Zombie Soccer (iPhone) Review