Limited Edition Game Boy Micro Going Cheap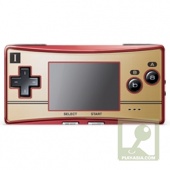 The Red/Gold Game Boy Micro (Famicom Edition, otherwise known as the Happy Mario edition) is now cheaper than ever with Play-Asia selling it for a mere USD 49.90, a big USD 80 discount from its original selling price of USD 129.90.
I've got one of these and it's been a great companion to my GBA games, not to mention a much lighter handheld console compared to that of my phat Nintendo DS.
Here's a write-up of this limited edition console:
This special red/gold colored Gameboy Boy Micro Famicom Version has been released in Japan, coinciding with the 20th anniversary of the creation of the first Nintendo Entertainment system in 2005. The back of this console is printed with the company's mascot, Mario's profile surrounded by a wreath of laurels. To commemorate this event, the shell of the system is playfully designed to mimic the appearance of the original Famicom console. This has also been the very first Game Boy Micro™ limited edition released and has become a very valuable collector's item.

The GB Micro supports all Game Boy Advance™ games no matter which release version it is and displays the graphics with a screen that is far superior to its predecessors.
Interested? What are you waiting for? Click here for purchase details!
Powered by

Sidelines
Previous Post Playing Videos on Nintendo's DSVision
Next Post The Force Unleashed? More Like Forced.