Red Bull Kart Fighter 3 – Unbeaten Tracks Coming For iOS Devices
Ladies and gentlemen, start your engines! Red Bull Kart Fighter 3 – Unbeaten Tracks will be released at the end of July. The long-awaited sequel to the successful arcade racing game Red Bull Kart Fighter– which received the highest ratings from the press and fans, and has had over ten million downloads to date – offers even more sensational racing action for free.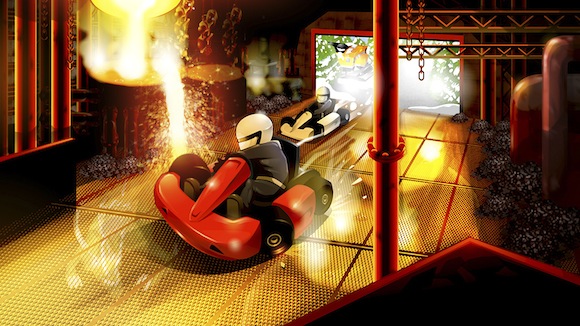 The new premium mobile game from Red Bull Media House, developed by the English studio Kempt Ltd., will be available for free on the App Store with exciting new features, cool karts, and over 25 challenging race courses. An Android version is in development as well. From simple racer to successful kart champion – that is the name of the game in Red Bull Kart Fighter 3 – Unbeaten Tracks.
For assistance, players have an experienced mechanic, himself a former successful racer, who offers useful suggestions and helpful tips as well as some mini objectives to complete. In the Workshop, the first step is selecting a personal kart, that the player can individually equip, and then it's time to put the pedal to the metal in the Career mode. Gradually and with every new success on the course, stylish new karts, like the moon buggy, the snowmobile, or the hovercraft, are unlocked, to take on the competition.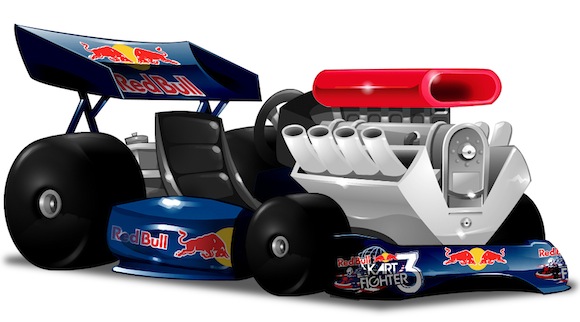 Naturally, every course has special highlights: from gigantic ramps and unbelievable jumps to hair-pin turns in which 360° jumps can be completed. There are three different control options to make things easier for beginners: automatic steering, automatic gas/brakes, and completely manual controls for advanced racers.
By winning races and completing challenges, players earn additional stars, which can be invested in wild cards before every new challenge. These give the player's kart better acceleration, higher speed, or better traction for the respective race. In Quick Play mode, it is possible to have the game provide a random set up of locked karts, location, and wild cards for free once per day – additional spins can be purchased.
Those who want to find out who the best kart driver in their network is can measure themselves against their Facebook friends in the Versus mode. Individual bet times on the national and global leaderboards and the Career mode trophies can be seen in the trophy room.
Powered by

Sidelines
Previous Post TANGRAM STYLE (3DS) Arrives on Nintendo 3DS eShop This Summer
Next Post Old School Charm In New Skin – Contra: Evolution (iOS) Game Review