Indie Game Developer Interview: James Todd (Chunkout Games)
James Todd of Chunkout Games is more than happy to answer our questions in this week's Indie Game Developer Interview segment. His company has just released Chunkout for the iPhone and that has received a favourable score from us over here at Nineoverten.com (check out the review here). Without further ado:
Nine Over Ten (9/10): Tell us more about yourselves and how you started developing mobile games?
James Todd – Chunkout Games (JT): Chunkout Games is an independent game development company from Canberra, Australia. Having dabbled in publishing games for classic platforms such as the Atari 2600, Nintendo NES and Gameboy Color, Chunkout Games has branched out into the mainstream platforms. We saw the current mobile market of both the iPhone/iPad and Android as a great opportunity to publish our games to a wide audience.
9/10: What was the idea behind Chunkout?
JT: Chunkout is aimed at being a simple pick up and play game, with just enough depth to keep people coming back over and over again. We have released a Chunkout game on 4 platforms now, including the Nintendo NES, Atari 2600, Gameboy Color and now Apple iOS. Each release has had its own unique charm, such as the highly retro graphics of the Atari 2600 and the detailed 1970s inspired back story.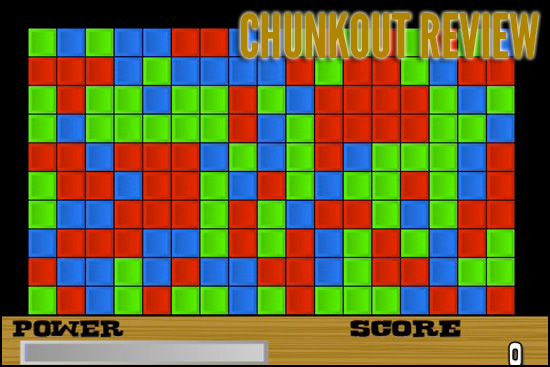 Chunkout for the iOS platforms introduce the power meter which is a new addition to the series, and really adds a lot to the gameplay. Players are tempted to use the multiplier to gain big scores, but it can also get out of control and leave you in a difficult position to finish the level.
9/10: How has the response been to Chunkout on the iTunes App Store?
JT: Sales have been quite good so far, and we've made it into the "What's Hot" list for the puzzle and arcade games list in Australia, France, Netherlands, Japan and Antigua and Barbuda. Our ratings have also been very positive, so we've been very grateful to our fans out there.
9/10: Could you share with us a little on what you'll be working on next?
JT: We have some ideas to add online leader boards and achievements into Chunkout which will really boost its appeal for people keen to compete and get a bit more out of the game. Another thing we are working on that should be out soon is an app that will integrate with Facebook and allow people to play around with their friends pictures. I can't say much more than that about it at the moment, but it should be out soon!
9/10: What are your views on iOS games piracy and how has that affected you and your fellow developers?
JT: To date we haven't felt the effects of piracy on our game, however I'm sure it's only a matter of time before it will occur. We'll take it as a form of advertising for our game, and hope that the pirates have a conscience to help out a small studio!
9/10: Any words for aspiring game developers out there?
JT: With the mobile markets of both iOS and Android, the playing field and barriers to entry have been leveled a lot between the big players and small development studios. While it's rare and takes a bit of luck to make decent money out of the app stores, it can be a great experience to get published and get your name out there.
Powered by

Sidelines
Previous Post Tempest Arrives On Pepsi Throwback Atari Arcade, iCade Sweepstakes Are Still On!
Next Post The Marbians (iPhone) Game Review: Highly Recommended