The Marbians (iPhone) Game Review: Highly Recommended
Nordisk Film Game Publishing's latest iPhone title, The Marbians, is like a game of mini-golf but on steroids. This physics-based game has players launching the flinging and flicking Marbians in their marble-encased spacesuits in order to collect blue moon rocks in increasingly challenging levels before heading back to their UFO.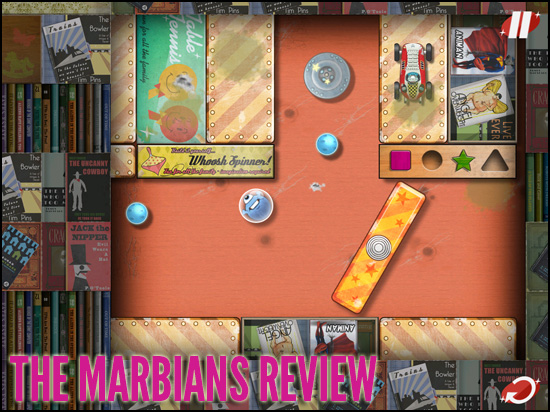 Like mini-golf, the Marbians will bounce around the levels and the more they bounce, the more points you get. However, the later levels will introduce things like obstacles that threaten to crush your Marbian and barriers that can only be removed by triggering remote switches. The obstacles make timing the launch of your Marbian critical and you'll need a dash of luck as well in order for your Marbian to escape unscatched.
As a game, The Marbians is really enjoyable puzzle game with plenty of lateral thinking involved. I feel that the developers have gone above and beyond the call of duty to present the game in such a stylish manner. The levels and even the menus look great, excluding a retro vibe  and I absolutely love the soundtrack. Like how coffee accentuates eating a slice of cheese cake, Game Center achievements and leaderboards completes this game.
The full version of The Marbians comes with over 70 levels to unlock and play, while those who prefer to try things out first would probably be interested in the free version of the game which comes with 16 levels. Nine Over Ten 9/10 rates The Marbians at a 4.5 out of 5. HIGHLY RECOMMENDED.
Check out the game over here: https://itunes.apple.com/us/app/the-marbians-full-game/id457515261?mt=8. A review code for the full version of the game was provided to Nine Over Ten 9/10 for the purpose of this review.
Powered by

Sidelines
Previous Post Indie Game Developer Interview: James Todd (Chunkout Games)
Next Post Social Network Raptr Surpasses 10 Milion Registered Gamers