Chunkout (iPhone) Game Review: Classic Gameplay
The humble casual game, when done right, usually epitomizes two things. The use of strategy, and the role that luck plays in "varying" your gameplay experience, meaning it can get random and yet you'll still have fun. Games such as Tetris and Bejeweled are prime examples of this, and now you can add Chunkout Games latest game, which is also called Chunkout.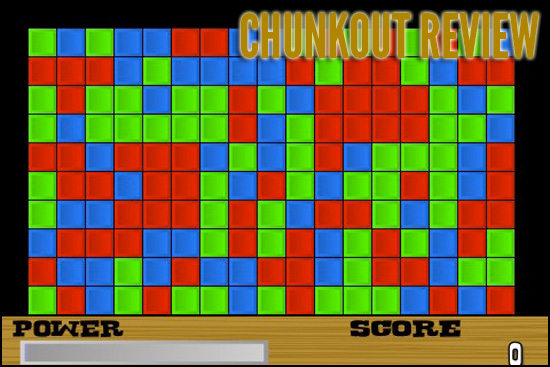 Like the other two earlier mentioned games, Chunkout is a game that's really easy to get into. Players will have to help Chunkout Chuck mine the riches under the town of Goldville. This is done by tapping on a chunk of 2 or more blocks of the same color to destroy the chunk. The bigger the chunk you destroy, the higher score you'll get and one way to do so is to clear the smaller chunks out of the way to form super-huge chunks to destroy.
By then, players should activate their multiplier to get a very nice bonus when destroying a huge chunk of blocks. Players will be continuously striving to get better scores and it also depends whether have you lucked out (meaning, in some instance of the game it's easier to come up with a super block). Trust me, this is a very addictive experience.
Chunkout is a 2D game which has a clean and simple look to it. Between the use of bland 3D textures (like in some games) and this, I would rather go with Chunkout's approach.  In any case, there is a point that can be improved in Chunkout, and you would have probably guessed it already.Game Center Leaderboards and Achievements. This would be a cool addition, and I think a necessary one in the next update considering that Chunkout is really scores-based.
Nine Over Ten 9/10 awards Chunkout with a 4 out of 5. HIGHLY RECOMMENDED. The game is available on the iTunes App Store for just USD 0.99: https://itunes.apple.com/us/app/chunkout/id454939868?ls=1&mt=8. A review code was provided to Nine Over Ten 9/10 for the purpose of this review.
Powered by

Sidelines
Previous Post This Week In Comics: DC's New 52 Continues!