Spot Kick Hero (iOS) Allows You To Bend It Like Beckham, Wilkinson, Crosby…
The first time I read the press release for Spot Kick Hero, I was asking myself, how do you feature Johnny Wilkinson and David Beckham within the same subject line. Turns out the game is a unique iOS title where players can test their mettle delivering spot kicks in football, rugby and American football! Check out the press release below for further details:
Celebrate the return of the 6 Nations, and get your fix in-between games as Rugby joins Football and American Football in a new iPhone and iPad game from Wired Productions.
Sport Kick Hero is the all new game, that puts you into the shoes of your sporting heroes as you step up the spot, ignore the pounding of your heart and the pressure from the crowd to score that all important penalty, conversion or field goal.
Spot Kick Hero is the first penalty shoot out game to include up to eight players in Tournament mode. Feel the tension; excitement and drama of a penalty shoot out with intuitive, easy-to-play game play in 3 different playable modes – Exhibition, Tournament and Mini Games.
Can you kick your way to glory and take on all-comers on the road to the final? You'll need to judge wind-speed and direction carefully and hold your nerve when the pressure's on in your bid to win. Do you have the skills to beat the goal keeper in Football? Or make a heroic save to clinch victory? Spot Kick Hero puts you on the spot.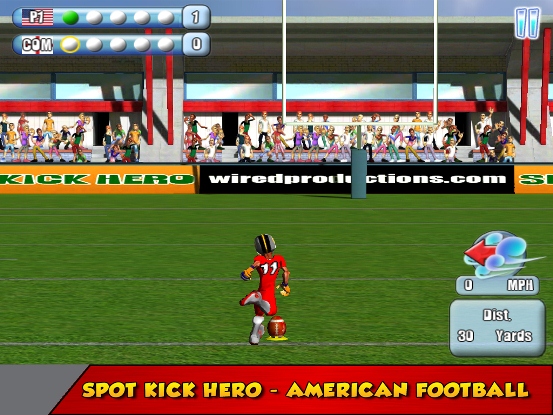 Spot Kick Hero comes with Facebook, Twitter and Game Center integration allowing players to challenge anyone in the world – and then brag about beating them. A host of new achievements offers a competitive single-player experience, whilst bespoke tournaments ensure that the nerve-shredding excitement of a penalty shoot-out can be enjoyed by all.
Check out the game over here: https://itunes.apple.com/ca/app/spot-kick-hero/id487178677?mt=8
Powered by

Sidelines
Previous Post Steam Hit Arcade Racer Ignite Heading to iOS Devices!
Next Post Oriental Match-3 Delight: 10 Talismans (iPhone) Game Review