Egyptian Doctor Releases an iPhone Game on 2011 Egyptian Revolution
The uprising that began on the 25th of January in Egypt was to topple down the regime of President Hosni Mubarak, and generally it succeeded. The Egyptian revolution is considered a part to the "Arab Spring", in which the populace of numerous Arab nations have took it in recent months to protest the oppressive ruling regimes in their respective countries but with starkly different results. The people of Libya are now fighting a civil war while Yemen is in the brink of it.
In any case, an Egyptian doctor decided to come up with an iPhone game about the Egyptian Revolution, and the gameplay revolves around the conflicts that took place between the police and the protesters. The game also features actual photos from Tahrir Square, a focal location during the protests. Check out the press release below for more details:
Cairo, Egypt – iPharaohs today is pleased to announce the release of Egyptian Revolution 1.0 for iOS. Ahmed T.Nabarawy and his friends were talking about the Egyptian Revolution during one of their gatherings. Remembering what they've been through in the streets of Cairo with the police forces and the thugs during 18 Long Hard days and all of a sudden Eissa said "We should create a game documenting this great experience!".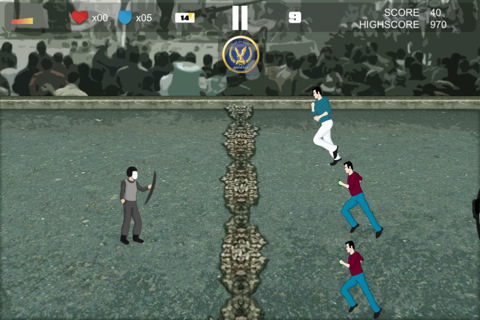 They liked the idea and they all started planning how to make it happen and 53 days later it was finally true. Egyptian Revolution the iPhone Game was released to the App Store on May 23rd 2011. The Game is in the Role Playing Category because you play as a protester in the first mode and play as a policeman in the second mode.
The game experience is great, a combination of real photos from Tahrir Square is displayed between the levels as loading screens to give a feeling to the player of what was going on that time and gives a background to the level he is about to play.
The Protester Mode contains confrontations between a protester named Nubi Who is trying to make his way to Tahrir Square to join the rest of his friends but policemen stands between him and his target. They threw tear gas bombs at him but he dodges them and returns them to the sender. Other policemen were shooting rubber bullets his way which he can avoid them or stop them by using the shield he acquired .
The Police Mode contains the other point of view, a policeman named Sami who is trying to follow the orders from his superiors to stop all people trying to enter Tahrir Square. He encounters some protesters throwing rocks and molotov bombs at him , unfortunately he is out of ammo so all he can do is return the molotov back at them and avoid the rocks, basically stall them till he gets reinforcements.
The game took a huge amount of money and effort to be developed in this short time and contains all those pictures and functionality. Egyptian Revolution for iPhone has Game Center integrated to help player compare their scores world wide and always try and finish the game with higher and higher score. Check out the game over here: https://itunes.apple.com/app/id433932839
Powered by

Sidelines
Previous Post Farkle Dice for iPhone and Android Rolls Past Half A Million Downloads
Next Post Danmaku Unlimited (iPhone) Review: Excellent Bullet Hell Shmup