Danmaku Unlimited (iPhone) Review: Excellent Bullet Hell Shmup
I've just experienced an awesome bullet hell game made by indie developer Sunny Tam for the iPhone. This top-down vertical shmup is titled Danmaku Unlimited and if you are familiar with CAVE shooters, you should be right at home here, and there's more that this game would offer as well.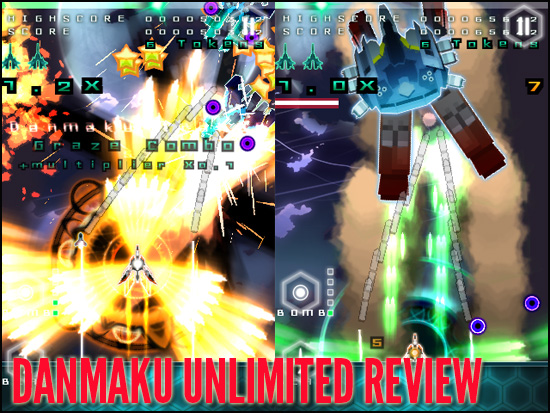 One thing that struck me about Danmaku Unlimited was how beautiful/stylish (and psychedelic) the game looked. It wasn't so much on the fractal-like patterns you come to expect from the bullets, but more on the overall graphics. Just take a look at the screenshots, and do I hear the sound of your jaw dropping?
Gameplay wise, the game puts you in control in one of three different kinds of ships, each with their own particular firing patterns. Movement is control via touchscreen, and players just need to touch anywhere on the screen to move the ship. Different fire controls and bombs aside, the game then throws in an interesting mechanics: bullet grazing.
Graze enough bullets (the ship's hit box is really small by the way) and you activate a trance mode which increases firepower and provides protection against a single hit. The boss battles are really stylish, memorable affairs, some of them needed to be taken down several times before completing a level.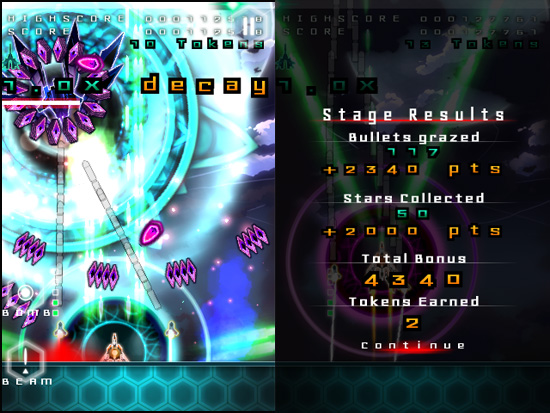 The crazy electropop soundtrack complements the gameplay really well, and basically you get amazing audio/visuals in a single package, something like taking Space Invaders Remixed for the DS (which is really psychedelic) and throwing in a LOTTTT of bullets. There are both local and global leaderboards, with the latter being handled by Apple's Game Center.
Danmaku Unlimited gets two thumbs up from Nine Over Ten 9/10 and this full-fledged indie effort will give those CAVE shooters some food for thought. If you are a bullet hell shmup lover, this is a must have. Nine Over Ten 9/10 rates this as a 5 over 5! EXCELLENT!
The game is available on the iTunes App Store for USD 1.99. Check it out over here: https://itunes.apple.com/us/app/danmaku-unlimited/id433288121?mt=8. A promo code for Danmaku Unlimited was provided by indie developer Sunny Tam to Nine Over Ten 9/10 for the purpose of this review.
Powered by

Sidelines
Previous Post Egyptian Doctor Releases an iPhone Game on 2011 Egyptian Revolution
Next Post SPV Mobile Launches Heroes of Might and Magic Tribute Izar 1.0 for iPhone