First Strike (iOS/Android) Game Review: Having Fun With Mutually Assured Destruction
During the Cold War, the term Mutually Assured Destruction, or its better known acronym "MAD" was bandied about as the favoured military doctrine among the nuclear superpowers of that time, namely the USA and the Soviet Union. Basically it assumed that should one side decide to launch its nuclear arsenal, the other side will retaliate with its own arsenal with the likelihood in the mutual, total, and assured destruction on both sides.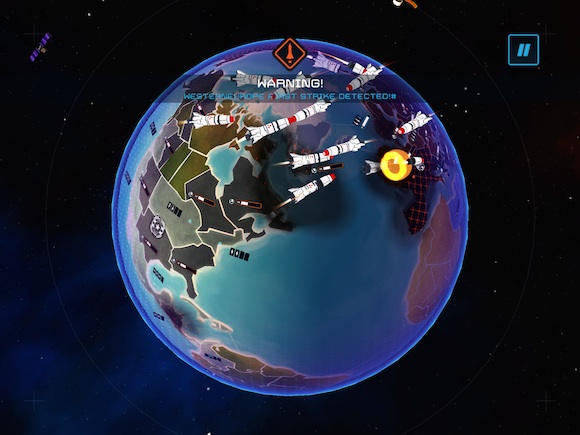 Ouch. I didn't know that a modern day iOS game would take that concept and translate it to a really fun and exciting strategy game, which turned out to be an interesting learning experience. Blindflug Studios' First Strike was released in late March this year but I just gotten about reviewing it…and that game got me hooked to my seat for a straight 30 minutes. An half hour is a pretty long time to be playing a mobile game but I can tell you that First Strike is really that addictive.
The game puts you in control of 1 of 11 nuclear superpowers and the gameplay takes place on a 3D globe (that can be zoomed in and out) that would be really familiar to fans of X-COM. Anyways, the objective of the game is to basically build up your arsenal of missiles (ICBMs, IRBMs, cruise missiles) in your respective territories and expand your territory. You get to do research  that will allow you to build bigger bombs, recon your enemy actions or develop automated self defense. During the game, you may choose to launch nuclear strikes at other countries or defend against them (via means of the cruise missile).
Unlike most real-time strategy games though, there's no resource gathering and the only thing you spend while building stuff is time. If a territory you own is occupied with building a missile, it wouldn't be able to defend from ICBM attacks, so be sure to have nearby territories to pick up the slack.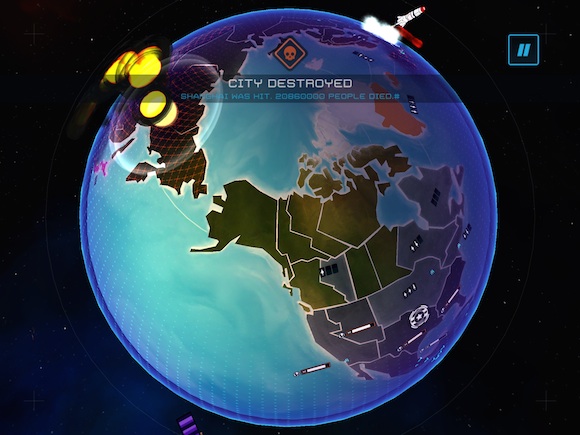 The fun part started when I decided not to attack using single ICBMs and instead opted for the First Strike option. Now, when this is triggered, your entire nuclear arsenal will be launched at a single target of your choosing. Normally this wouldn't invite retaliation early in the game but like I said I spent 30 minutes in one particular session which ended with France launching its entire arsenal at me in retaliation to my First Strike. It was crazyyyyyyyyyy.
First Strike managed to take a heavy subject matter and turn it into a fun and exciting RTS game for the iPad, and for that Nine Over Ten 9/10 rates First Strike at a 4.5 out of 5.
The game is available on the iTunes App Store for USD 3.99: https://itunes.apple.com/us/app/first-strike-game/id783636913?ls=1&mt=8 and also on the Google Play Store for the same price: https://play.google.com/store/apps/details?id=ch.feinheit.games.firststrike
A promo code for the iOS version of the game was provided to Nineoverten.com for the purpose of this review.
Powered by

Sidelines
Previous Post Darkin (iOS) Game Review: Eat Your Heart Out With This Awesome Vampiric Match-3 Experience
Next Post Watch Iron Man Mode Fly Around The World Virtually and Raise Funds For Charity