London 2012: The Official Mobile Game of the XXX Olympiad Released (iOS & Android)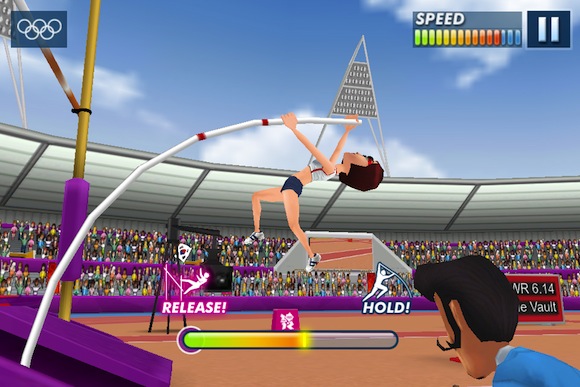 I wonder whether Baron Pierre de Coubertin would have thought that the Olympic Games would become the marketing extravaganza that it is in this age and that athletes are money-making superstars (not only due to their athletic prowess but also how they market themselves). If he were alive today, he would also find that with major sporting events like the Olympics, there would be video games tie-ins as well!
Neowiz Internet has just launched the Official Mobile Game for the London 2012 Olympic Games. The game is available for download and play on leading smartphone and tablet platforms. I read about the stringent licensing policies when it comes to the Olympic Games and can imagine it must be such a coup for these guys to come up with the game.
London 2012 – Official Mobile Game allows users to create a virtual athlete and participate in Olympic events in authentic London 2012 Olympic venues. Your athlete can participate in 9 Olympic events such as Double Trap, Archery, 110m Hurdles, Swimming, Kayak and more.
Appealing to both new and seasoned gamers, the games intuitive controls, superb graphics and authentic London 2012 venues puts games at the heart of the action like never before. Soak up the atmosphere, prove you're the best and immerse yourself in the world's biggest sporting event – the Olympic Games.
Players can choose to represent their own countries and design, train and improve upon their own athlete in the way that they want. Such customizations amount in the hundreds and players will get to compete in three different modes; training mode where players prepare for the Olympic Games, Olympic mode where players compete for the gold medal or Challenge mode where players can challenge Facebook pals or complete in-game challenges.
London 2012 – Official Mobile Game for the XXX Olympiad is now available to download as a premium or free game. The premium version (https://itunes.apple.com/us/app/london-2012-official-mobile/id526999647?mt=8), priced at $2.99, provides 5,000 stars with which users can purchase game items and customise their athlete. The free version (https://itunes.apple.com/us/app/london-2012-official-mobile/id514520676?mt=8) can be enjoyed at no cost with additional game items available to purchase at any time
Powered by

Sidelines
Previous Post Going Behind the Games: HandyGames Presents Townsmen (iOS & Android) Artwork
Next Post Coop Phonics (iOS): The Educational Title With Unreal Engine Inside