Super Robot Taisen OG Saga: Endless Frontier Review
Super Robot Taisen OG Saga: Endless Frontier is probably one of the more fun RPGs that I've played lately on the Nintendo DS. At first I thought the game was a tactical RPG featuring Gundam-like mecha but it turns out that Endless Frontier is an offshoot of the original Super Robot Taisen series and instead has more in common with traditional character driven RPGs like Final Fantasy III.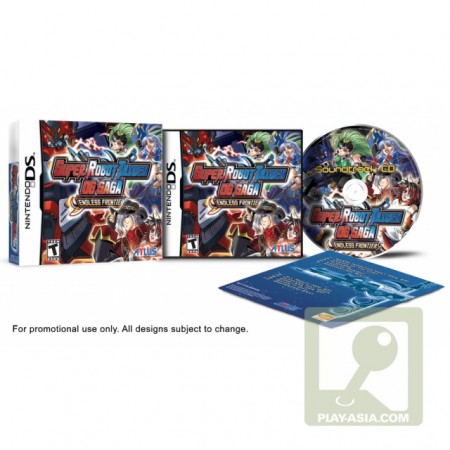 While the game brought along the bad stuff that I normally associate with traditional RPGs (level grinding, random encounters), it has, to its credit, a lot of anime "fan-service", an appropriate (but not kid-friendly) script to go along with it and more importantly, a kick-ass combat system.
There's a reason why the game is given a T rating along with warnings for partial nudity and suggestive themes. The use of jiggly boobs and innuendo abound in this game, so tell your kids that while Mario Kart is theirs for the playing, Endless Frontier is "Daddy's game".
Like Final Fantasy III, the combat system  is turned based, but it gives you the opportunity to perform "continuous attacks" with more than one of your team members. Continue to lay on the beat down on your opponents and you'll soon get to unleash a special attack (cue jiggly boobs) to decimate your opponent.
I haven't have that much fun since the baby-tossing days of Mario and Luigi: Partners in Time, and it's really good that Atlus has brought this over States-side. Like some recent Atlus releases, the game comes as a premium release with the addition of the soundtrack CD. Click here for purchase information.
Now if you must excuse me, I've to get all this innuendo outta my head. Remember, the game is not for kids, and neither is Mario and Luigi: Partners in Time. Wouldn't want impressionable kids tossing babies around, would you?
Powered by

Sidelines
Previous Post World Championship Games: Another Piece of NDS Shovelware?