Polar Vortex? Whiteout Watch (iOS) Is Here To Tell You The Snow Days for FREE!
My wife was telling me the other day that her colleagues over at Michigan, U.S.A had to endure really cold weather at minus 20 degrees Celsius. I can't imagine walking or running around in such weather considering that we are living right near the equator in Malaysia (it's just rain, hot weather, and high humidity that we have to endure over here).  In any case, indie developer Zack Banack, has come up with a brand-new app, Whiteout Watch for iOS devices that calculates the percent chance of a snow day (school cancelation due to poor weather conditions), delay, and early dismissal for the following day.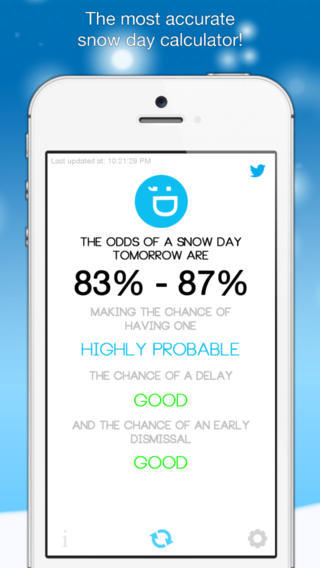 As you can imagine, that's really handy for students, parents and teachers alike in the United States, especially with that polar vortex thing going on now. The app works by loading, in real-time, weather data from Yahoo! Weather and this data is then compared against adapted weather-related charts and scales. Over 20 weather, time, and location-based variables are present in the final formula used to determine the probabilities.
How the user goes about using Whiteout Watch is straight-forward. The user enters in the ZIP Code of his/her school district and answers several short questions regarding the school (how many snow days they've had, how many they typically get every year, etc.). Within seconds, the results will be on the screen with bright, simplistic and fun visuals to make understanding easy. A tweet button is available and will automatically post the results to Twitter for the user's friends to see.
Whiteout Watch is available for FREE on the iOS App Store, check it out over here: https://itunes.apple.com/us/app/id788314696
Powered by

Sidelines
Previous Post Chain Reactors Slots Review
Next Post Hit Indie RPG Avadon 2: The Corruption Coming to iPads This February 2014