Wordly (iOS) Game Review: Totally Addictive Alternative to Words With Friends
Goodness. I just beat someone on Wordly, and that's pretty much impetus to write a review for the game. Less you think that I'm in over my head reviewing the game after one victory, I've actually beat the A.I a couple of times, and have 3 on-going matches against fellow human being, albeit strangers all of them.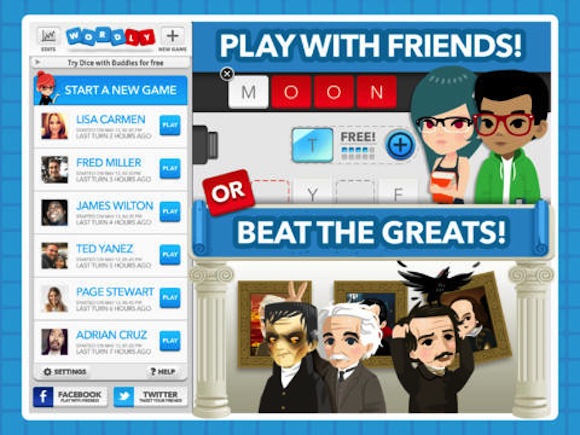 For the uninitiated, Wordly from publisher Scopely, is a cross between Scrabble and the traditional Japanese board game of GO. The GO portion lends a concept to Wordly that many a Magic: The Gathering players would recognize immediately, particularly those who are used to playing "Control" decks. The primary objective of the game is to construct words from the letter tiles arranged 5 by 5 on screen. Using a tile colours them a shade of blue (or red, depending on who starts the match), and if you use a tile that is surrounded by other tiles of the same blue colour, it turns a darker shade of blue, denying your opponent the use of that tile.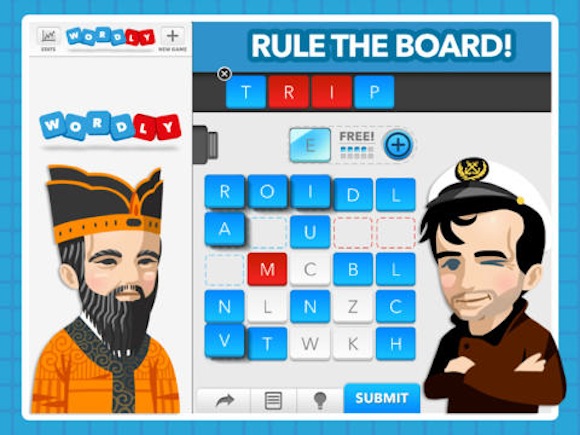 A match is completed when all the tiles are used up, and the winner is the one with the most tiles. Players can opt for two modes when starting a match, one is a straight-up play-the-tiles, while the other one has some of the letter tiles contributing extra points; players would do well concentrating on building words with those tiles. Wordly encourages online play as the offline play involving A.I personalities is kinda nerfed as you'll need to wait awhile before the game "recharges" in order for you to play more turns.
The game is free to play, so you might be wondering what's the catch. Basically you can purchase coins for buying letters when you allotment of wild tiles (think of them as the filler tiles you seen in Scrabble) runs out in each match, or brainpower, which determines the number of turns you can play in single player mode. Is there another way to earn coins? Yes. Besides the already long list of achievement available in game, players, especially completists, can opt to complete the daily achievements. For example, I've 9 hours left to earn the "Spell 3 Homonyms" achievement which gives me 50 coins. Some of the normal achievements do give out coins as well.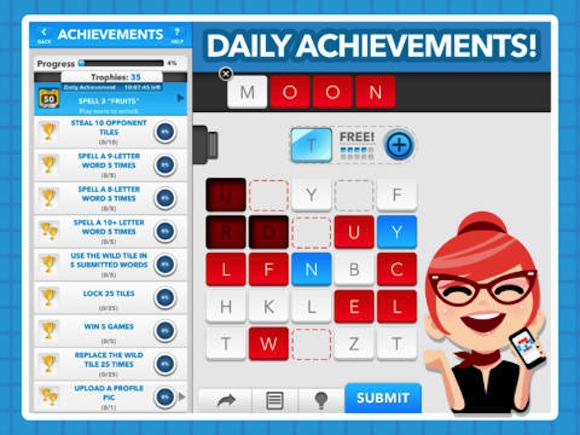 In Scrabble, it's often the case where the availability of one letter makes or breaks the creation of a killer word and Wordly's coin system has the potential of being abused, since it essentially allows a player to do a mulligan for that particular letter just as long as his or her amount of coins holds up. With that in mind, I've to say that the game IS bloody addictive, kinda like a new Words with Friends. I just hope that the pay-to-win aspect gets removed entirely. Nineoverten.com rates Wordly at a 4.5 out of 5.
Wordly is available for free on the iOS App Store, check it out over here: https://itunes.apple.com/us/app/wordly-not-your-mothers-word-game/id622768071
Powered by

Sidelines
Previous Post New Indie iOS Game Releases This Week
Next Post Follow Friday New iOS Games: Transport Tycoon, NASCAR, Conka and Slot Revolution