App Spotlight: Vox 1.0 (Mac) Audio Player – Finally an Alternative for iTunes
This week sees the debut of Vox 1.0, a brand new audio player for Mac OS X from the acclaimed developer of OS X software, Coppertino. The app is a free download on the Mac App Store and don't let the minimalist design fool you as the player supports all popular Lossless and Lossy music file formats, including  FLAC, MP3, AAC, Musepack, Monkey's Audio, OGG Vorbis, Apple Lossless, AIFF, WAV, IT, MOD, XM and others. The app comes with an optional USD 0.99 in-app purchase which will enable users to listen to more than 3,000 radio stations worldwide.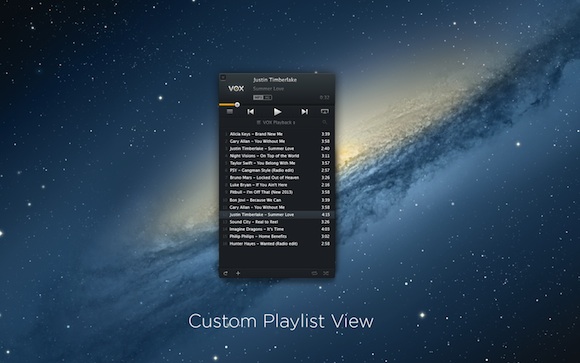 That's pretty impressive for what was previously a side project. I've been using it for the past half a day and I found it to be pretty good. It was a straightforward process importing my songs from iTunes into Vox and the UI is very easy to navigate. Check out the following press release for more details and the download link for the app:
LOS ANGELES, CA, August 6, 2013 – Mac fans obviously know a good thing when they see it, so when the VOX audio player, with its sleek minimalist design and gorgeous sound output, was originally introduced, millions adopted it as their primary audio player.  However, because VOX was originally developed as a personal side project, it never reached its full potential.
Today, Coppertino, an award-winning developer of OS X software, announced that VOX 1.0 is now available for free for OS X 10.7 and higher on the Mac App Store.  Fresh off a beta session in which the Mac community helped shape the final version, the VOX 1.0 OS X audio player app can handle all popular Lossless and Lossy formats, including FLAC, MP3, AAC, Musepack, Monkey's Audio, OGG Vorbis, Apple Lossless, AIFF, WAV, IT, MOD, XM and others.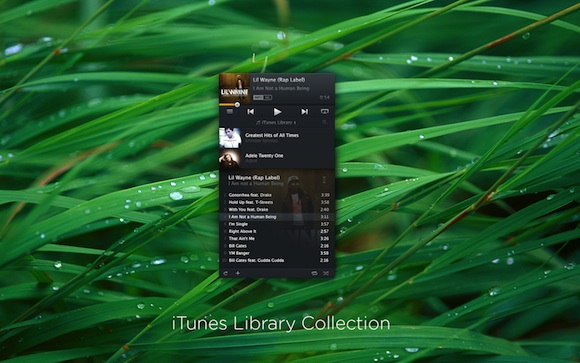 The first in-app purchase, available for $0.99 for a limited time, will allow users to be able to listen to more than 3,000 radio stations around the world.  Many additional in-app features are planned for the near future, including LastFM Streaming, SoundCloud, Spotify and Rdio integration. Backed with a new user interface and powerful BASS engine, VOX 1.0 is a robust audio player for OS X devices that delivers high-quality sound within a minimalistic and intuitive design framework.
A free audio player, VOX 1.0 includes a wide range of updated features and customization options:
Easy iTunes integration – VOX 1.0 reads your library as a music source but does not otherwise affect it.
Last FM Scrobbling keeps your musical tastes up to date.
Automatic cover art lookup via MusicBrainz and LastFM database.
VOX 1.0 supports a variety of playlists like M3U, PLS, XSPF and CUE – the popular format used for storing CD rips – CUE.
Allows quick access to your audio devices, including AirPlay (10.8+).
Designed to play via NAS, the open-source model for playing, recording, and manipulating audio data over a network.
VOX 1.0 supports literally any source your Mac can access.  Add music from external HDDs, network drives and VPN-connected storages.
Built-in equalizer with a variety of presets and adjustments.
Transforms ordinary stereo source into 7.1 or 5.1 channel output.
Bauer Stereo provides more realistic sound when listening to stereo music through headphones.
Cool enhancements and audiophile features such as crossfade, fade on play/pause, resume playback, and more.
Your music automatically pauses when your headphones are disconnected.
Handy controls available from OS X main menu and VOX Dock icon.
Full OS X gesture support including altering playlist height, switching music sources or adjusting volume.
"As an OS X developer, we are big fans of streamlined applications that provide tremendous value and functionality, yet doesn't take a significant commitment on the user's part to at least try it," said Ivan Ablamsky, Founder of Coppertino.  "We are confident that once Mac fans try the new VOX 1.0, it will quickly become their default audio player."
Vox is available for download over here: https://itunes.apple.com/us/app/vox/id461369673?ls=1&mt=12
Powered by

Sidelines
Previous Post Air Asia's Baggage Handler Never Had It This Good: Please! No More Bags (iOS) Game Review
Next Post S2 Games Announces New MOBA Strife, Promises Community-Driven Gameplay