Satisfy the Thirst of Your Alien Overlords in Super Juice Master 5000 (iOS)
In X-Com: Enemy Unknown, the aliens attacking Earth plan to enslave the human race, while in Oblivion, the movie starring Tom Cruise, the alien known as Tet was out to siphon Earth's resources. Those are pretty standard and often used sci-fi tropes when it comes to aliens, but Metaversal Studio's latest iOS game Super Juice Master 5000, the fate of humanity hangs in the balance  as aliens enslave you to create tasty juice beverages for them!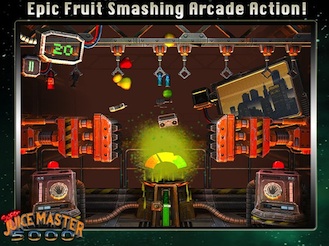 LOL. That premise for this retro-inspired title had me laughing out loud Check out the screenshots and the press release below before heading over to the App Store where you'll find Super Juice Master 5000 available for free: https://itunes.apple.com/us/app/super-juice-master-5000/id657817730?ls=1&mt=8
Game developer Metaversal Studios announced today the release of their new iOS action arcade game, Super Juice Master 5000.

It is the future, and Earth has been conquered by an alien race. The only hope for humanity is to supply the alien overlords with delicious juice beverages. Fail and mankind is doomed. Succeed, and become the Super Juice Master…5000.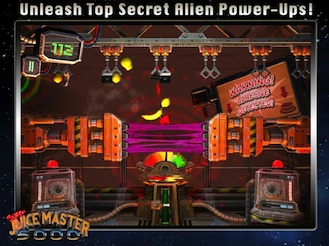 "It's the timeless story of mankind's struggle to survive by juicing fruit with giant metal pistons," said Matt Sughrue, Metaversal's VP of Product Development. "It has all the trappings of a classic arcade game: cool power-ups, threatening aliens, oranges, old tires, pineapples, broken TVs, melons and an inexplicable number 5000 in the name. What more could you want?"
The development team at Metaversal looked back to their retro gaming roots for inspiration while making SJM5K.

"Everybody at Metaversal Studios has a long history of gaming, and we really tapped into some of our earliest gaming experiences for inspiration when making Super Juice Master 5000. That appreciation for retro console and arcade games was a great boost for our creativity, and I think our long-standing passion for games really shone through; we're ecstatic with the result and can't wait to share it with our fans!"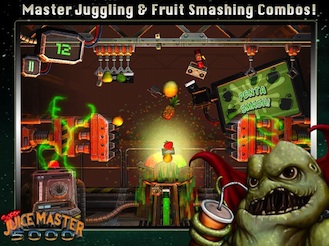 Metaversal Studios is the developer of many games for iOS and Android, including chart-topping Entertainment app Shave Me!, with over 6 million downloads across both platforms; Heal Me!, Bad Apples, a puzzle game with over 1.6 million downloads, Updraft Jack, and Bad Apples: Battle Harvest, which is also available on the Mac App Store.
Powered by

Sidelines
Previous Post Quadropus Rampage (iOS) Game Review: More Awesome Goodness From The Makers of Towelfight 2
Next Post The World's Best (and Best Selling) MMO Gaming Mouse Just Got Better