MINT.io Groovebox App Launched for iPad, Fancy Being the Next Skrillex?
This new app, MINT.io from Amidio Inc, is an extraordinary Groovebox app for the iPad, aimed at budding bedroom musicians who fancy being the next Skrillex. It's not bad actually being Skrillex, odd stage name aside, you get to lay some really cool dubstep and date (well used to date) that hot Brit Ellie Goulding. Check out the rest of the press release for more details, and screenshots: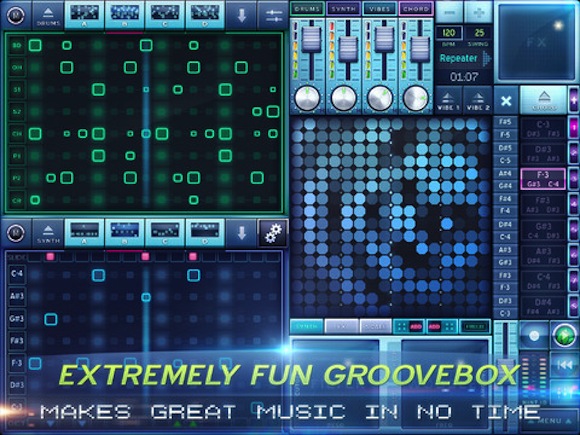 MINT.io is a revolutionary scale-based, intelligent electronic music production machine, aimed at live House, Dubstep and Breakbeat performances, built under the paradigm of one-screen interface in order to achieve maximum realtime tweak ability.
The groovebox consists of a drum synth, a bassline synth, a sample-based pond-style twin synth, an automatic pad/chord machine and a noise generator. These all benefit from pristine audio quality (CrystalClear 5.0 Ultra-Precision Audio Engine) and are stocked with modern sounds, which offer many endless hours of instant music-generation fun even for those who are new to making music.
First in the time of grooveboxes, the user is presented with an amazing, completely automatic pattern generator, which is capable of making great, highly varied beats and synth melodies! Any of the 8 patterns can be randomized with just a double tap, or the mighty Randomize All feature can be used.
MINT.io is capable of producing really impressive tracks, which can be recorded instantly to .WAV and .MIDI formats. Speaking numbers, there are 5 sound generators, 5 filters, 20 drumkits, 20 bass presets, 32 Raindrop sounds, 16 Chord sounds, 8 patterns. MINT.io is available as a free-to-try app with enough free content to demonstrate its huge potential. There is an unlockable Premium mode ($4.99 or equivalent) which enables all the functionality. Check it out over here: https://itunes.apple.com/us/app/mint.io-groovebox-music-in/id585905223?mt=8
Powered by

Sidelines
Previous Post Berzerk Ball 2 (iOS) Game Review: Geek Whacking at Its Best!
Next Post London Games Festival Art Exhibition Raises Over £30,000 for SpecialEffect