Steve Wozniak and Danny Trejo Wreck Havoc in Upcoming iOS Game Woz With a Coz
Apple co-founder Steve Wozniak is probably the last person you would expect to be handling a gun, but then again, he IS American. The overall nice guy picks up a piece in the upcoming iOS game (naturally) Danny Trejo's VENGEANCE (Woz with a Coz), created by movie picture and television production company ITN Flix. From the press release: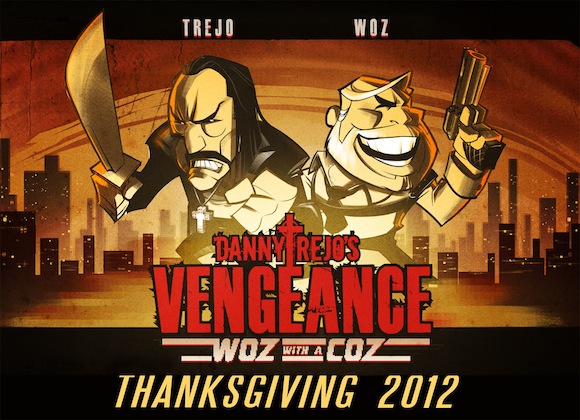 Developed by ITN FLIX in association with React! Games, this awesome title features the appearance of modern day Einstein and computer genius, Steve Wozniak, in addition to legendary movie star and film icon, Danny Trejo! This awesome duo will be accompanied by other entertaining characters including platinum recording artist Baby Bash, MMA World Champion 'Suga' Rashad Evans, and many more!
In 'Woz With A Coz' on iOS®, the Apple® co-founder and his wife, 'J-Woz' are enjoying their evening together, taking a glide. Unfortunately, their otherwise quiet evening is ruined – not by a competitive product release – but rather by street thugs kidnapping 'J-Woz' !!! Your dynamic duo of Steve and Danny must hurry and swing into action as they tear up Fusion City in their quest to rescue 'J-Woz', and maybe cause a little mayhem on their way …
'Woz With A Coz' is platform-gaming at its finest and includes multiple levels of action-packed fun. With a unique 8-bit (retro and gritty) art style in addition to plenty of unique and powerful weapons such as machetes and powerful guns, this game will have you coming back for more! Packed full of upgrades and add-ons, players will quickly become addicted to the gameplay of the dynamic duo.
'Woz With A Coz' will launch on the iOS® App Store Thanksgiving 2012, and is compatible with the Apple iPhone®, Apple iPod touch®, and the Apple iPad®.
Powered by

Sidelines
Previous Post New Game: Prepare For The End Of The World By Building Your Bunker in Doomsday Preppers (iOS)
Next Post This Week in Comics: Wolverine & The X-Men, Batgirl, Ultimates and More!