Atari Launches Centipede: Origins For iOS & Android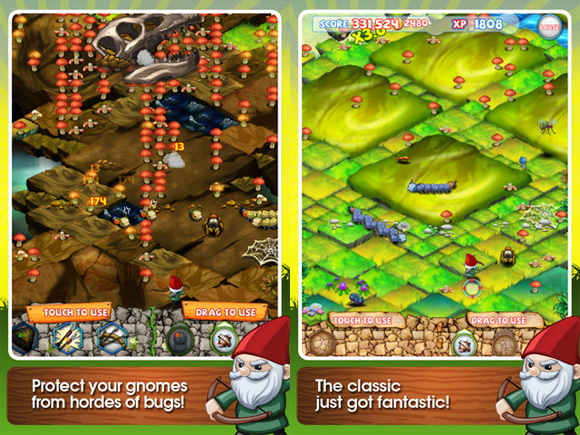 Atari today has launched Centipede: Origins for both iOS and Android devices. Inspired by the retro arcade classic Centipede, Centipede: Origins features updated gameplay and hand-drawn graphics. Check out the press release below for more details:
Atari, one of the world's most recognized publishers and developers of interactive entertainment, today announced the launch of Centipede®: Origins on the App Store and Google Play. Staying true to the classic arcade shooter Centipede, players will help their garden gnome repel an army of centipedes and other bugs to protect their garden at all costs. Available for iPhone, iPad, iPod touch, and a variety of Android smartphones and tablets, Centipede: Origins will be available for $0.99 with in-game purchases, using the following links:
In this evolution of Centipede, players have all-new weapons and gadgets such as grenades and the memorable mushroom men at their disposal to exterminate the insect invaders. Using coins that may be acquired in-game or through purchase, weapons and gadgets can be fully upgraded for the gnomes to wield in the war against the swarm. Use the latest in technology to help the garden gnomes protect their world from centipedes and bugs!
Centipede: Origins features include:
Use three upgradeable weapons (with more to come!), like the Grenades and Boom Shot, that will lay waste to the onslaught of bugs and centipedes
Use three upgradeable gadgets (with more to come!), like the Fly Trap and the Time Warp, to gain the upper hand in your battle to eliminate the insects
Acquire coins through in-game accomplishments or via in-app purchase to upgrade weapons and gadgets and improve your battle capabilities
Play through four different environments that unlock as players progress through the game
Earn achievements, compete on leaderboards and share scores with friends via Twitter and Facebook
Powered by

Sidelines
Previous Post Splash – The Straw Hat Adventure Coming Soon For iOS Devices
Next Post 2012 London Games Festival First Events Confirmed – Check It Out