Decked Drafter (iOS) Updated To Include Avacyn Restored
Here's an update to all you serious Magic: The Gathering players out there. Decked Studios has released a new version of its widely popular Magic: The Gathering Drafting app, Decked Drafter, on the iPhone and iPad.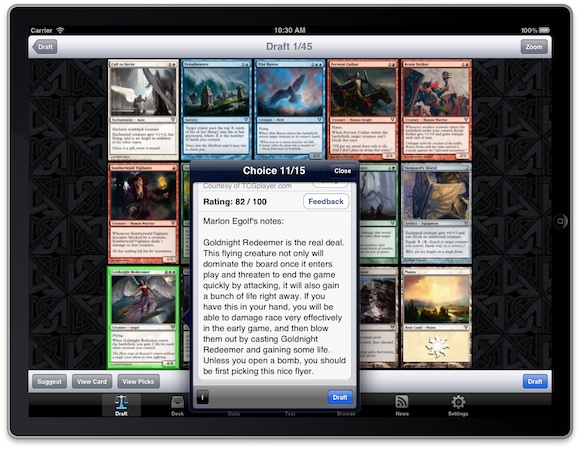 The newest version of Decked Drafter now includes the final set in the Innistrad Block; Avacyn Restored. In this release, Decked Studios has enlisted the services of a new MTG Pro, Timothy Landale, to team up with Marlon Egolf to provide drafting tips for every single card in Avacyn Restored. If you have any questions on what cards to pick during your next draft, the Decked Studio Pros will help make your decisions easier.
Decked Drafter is the only mobile app designed to help Magic: The Gathering players improve their draft skills, featuring a full draft simulator and expert strategy tips from the pros. Decked Drafter is available for free on the iTunes app store: https://www.deckedbuilder.com/
Powered by

Sidelines
Previous Post Mobbles (iOS & Android): Where Augmented Reality Meets Pokemon and Tamagotchi
Next Post Spherie (iOS) Challenges Players With Augmented Reality Pac-Man