Updraft Jack HD (iPad) Review
I can't put my finger on which PSOne game that Updraft Jack HD (iPad) seemed to resemble, graphics wise. No matter, Metaversal's latest title for the iPad is a fun addition to a genre of games which has made iOS devices home. Dash or endless-running type of games are simple in nature, with players just needing to keep their characters moving along a linear path.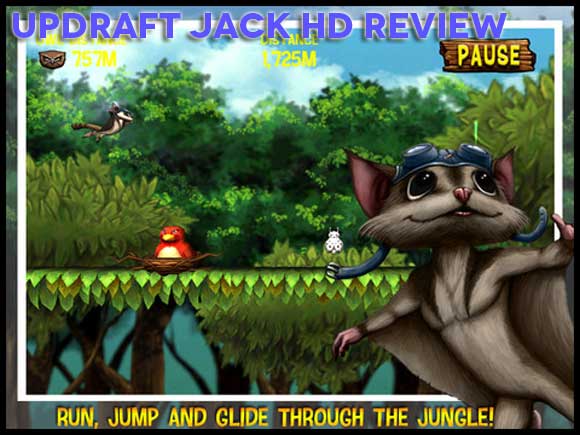 In the case of Updraft Jack HD, players control a sugar-glider (if you don't know what a sugar-glider is, read this Wikipedia article) in a bid to keep ahead of an owl. Named Jack, the sugar-glider's wings are used to catch the wind, which will then enable him to glide through the jungle. It turns out that there are plenty of stuff in the jungle to make use of to gain distance from the owl, but at the same time, there are plenty of obstacles to avoid as well.
The controls are really simple but it's the graphics that grab the headlines for this game. Employing 3D textures in what is essentially is a 2D game, Updraft Jack HD looks awesome and like I said earlier, reminiscent of earlier PSOne/N64 games. Nine Over Ten 9/10 rates Updraft Jack HD at a 4.5 out of 5. The game is available on the iTunes App Store at a price of USD 1.99: https://itunes.apple.com/vg/app/updraft-jack-hd/id503152814?mt=8
A review code was provided to Nineoverten.com for the purpose of this review.
Powered by

Sidelines
Previous Post Halfbrick Celebrates Fruit Ninja's Two Year Anniversary With Massive Free Update
Next Post Announced: From Bedrooms to Billions Documentary on UK's Video Game Industry