Saving Yello (iOS) Now Available For Free!
The poor little fish from Saving Yello is in for more trauma as the game is now available for free for a limited time on the iTunes App Store! This really interesting game (we rated it a 4.5 out of 5 back in December, click here) is worth checking out. Here's a description of the game: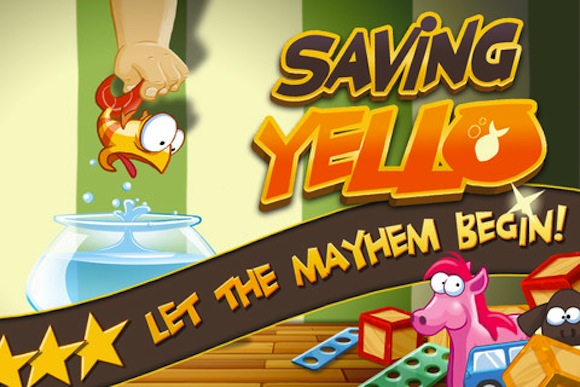 Offering fast, fun, fish-flinging physics puzzle action, Saving Yello has players rescuing the unlucky goldfish, "Yello", from the clutches of his mischievous seven-year-old owner, Mathilda. By pulling his tail to launch him through the air, players must aim just right in order to freeze, burn and destroy the variety of obstacles standing in the way of his fishbowl.
Saving Yello challenges players to complete 50 levels across three game settings to save Yello and achieve high scores by collecting toy combinations to set off massive chain reactions! With over 20 achievements even the heartiest of gamers will have their skills tested!
You can download the game for iOS devices right over here: https://itunes.apple.com/us/app/saving-yello/id465065038?mt=8
Powered by

Sidelines
Previous Post Innovative Music App Sound Wand Makes It Debut On iTunes App Store
Next Post Kiloo Game Debuts Awesome Frisbee Forever 2 (iOS) Trailer