Wendr (iPhone) Social Media App Released in Conjunction With Social Media Week NY
Wendr, a new social media service that aims to simplify the way in which people coordinate nightly plans, announced the release of its iPhone application at the onset of Social Media Week in New York City.
"Wendr solves an everyday problem very directly," said Sam Zises, Wendr's creator and CEO, a social media and branded content specialist. "We're about making your real life more social. Instead of wasting time calling, texting and messaging all of your friends to see what they're doing tonight, Wendr allows you to coordinate plans with your friends more efficiently, so you can stop 'checking-in' and start hanging out."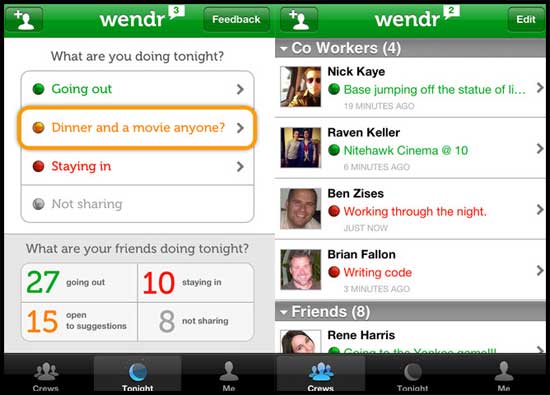 Like Twitter, Wendr asks users to answer one simple question. The question Wendr asks is: What are you doing tonight? With its sleek user interface, Wendr lets users set plans for the night, and see what plans their friends have made. Wendr saves you the frustration of contacting multiple friends to make plans, only to learn that some are staying in to study, catch up on work or are still recovering from last night. Now with Wendr you can see which friends are "Going Out", "Staying In" or "Open to Suggestions".
Wendr addresses privacy concerns by allowing users to create customizable "Crews" of friends, giving users ultimate control over who can view their plans for the night. And to differentiate itself from competitors in the space, Wendr focuses solely on tonight. In fact, plans reset every day at 6 a.m.
To make the application even more engaging, Wendr has procured tastemakers and influencers for users to follow, "Featured Promoters". This group includes entertainment personality Micah Jesse, New York Daily News' Food Editor Amanda Sidman, New York City nightlife aficionado Adam Alpert, world- renowned DJ Skribble, Facebook personality Justin Ross Lee and Boston's leading nightlife executive, Cameron Grob, among others.
Avi Savar, Wendr advisor and Big Fuel's founding partner said, "Wendr offers an innovative marketing opportunity for brands to target local customers at the exact moment they are considering a purchase decision. Whether you're a movie studio releasing a new film or a local restaurant with available seating, Wendr will be able to target customers on a hyper local and time sensitive basis."
While the initial release of Wendr will be promotion free, Wendr has inked deals with a number of high profile entertainment, dining and nightlife partners for the next version of the application. Wendr is now available for download for free on the iPhone App Store. Find your night on Wendr: https://itunes.apple.com/us/app/wendr/id501515775?mt=8&uo=4
Powered by

Sidelines
Previous Post Valentine and Free Levels from Disney's Swampy in Where's My Water Free
Next Post Multi Platform Online Shooter Brick-Force Beta Attracts 100,000 Players