Free Tracks from Lady Gaga, Coldplay and Snoop Dogg on Tap Tap Revenge 4 (iOS)
Want to download Lady Gaga's latest hit song "Marry The Night"? You can do so for free on Tap Tap Revenge. Leading up to New Year's Eve, Tap Tap Revenge is giving away a song a day, including a few holiday favorites, Grammy nominations, and hit singles from the world's biggest music acts, including Lady Gaga, whose new hit song "Marry The Night" is today's free track.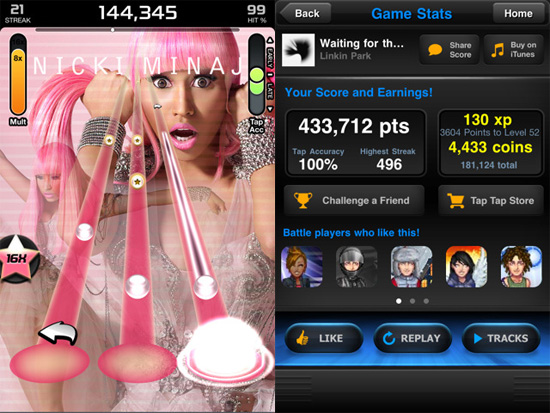 No Tap Tap Christmas would be complete without a little Coldplay.  The band's new hit song "Hurts Like Heaven" is the free track of the day on December 25th, and because we can all use a little post-Christmas cheer, Tap Tap Revenge is also giving away Bootsy Collins & Snoop Dogg's "Happy Holidaze 2012" on December 26.
Other hit songs being given away for free in Tap Tap Revenge's holiday promotion include, "Feel So Close" from Calvin Harris, "Body Work" from Morgan Page (ft. Tegan & Sara) and The Band Perry's smash hit "If I Die Young."  The free music doesn't stop there, as Tap Tap Revenge will also be giving away songs from cool artists like:
Alkaline Trio "American Scream"
She Wants Revenge "Take The World"
Coleman & Chris "Outta My Head"
Ivy "Fascinated"
Chancellor Warhol "Crystal Clear"
The Outfield "California Sun"
Tap Tap Revenge was the App Store's #4 game app of 2011 and is the most successful mobile music franchise of all time.  It is available for free from the App Store on iPhone, iPod touch or iPad, or on Android. Check it out over here on the iTunes App Store: https://itunes.apple.com/us/app/tap-tap-revenge-4/id405373266?mt=8
Powered by

Sidelines
Previous Post This Week's iOS Game Releases: FREE Games Galore!
Next Post Monkey Island Tales Episode 3 Is Now Available on iPhone