Free For A Limited Time – Zombie Bash: Christmas Attack (iPhone)
With zombies being flavour of the year and Christmas right around the corner, it's about time someone came up with a Christmas/Zombies mashup. Mention Mobile has just released Zombie Bash: Christmas Attack, an arcade-style game with 8-levels. In the game, players help Santa save Christmas from hordes of crazed zombies.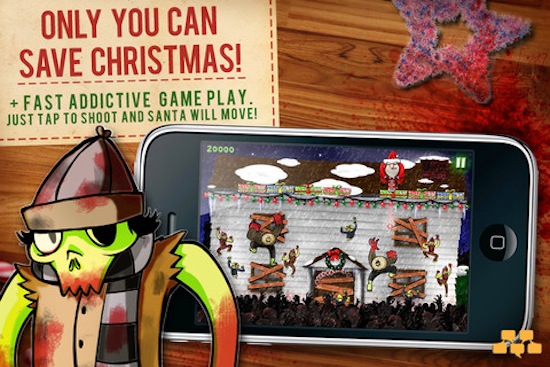 As Santa gets stranded on Christmas night, after all of his reindeer pals take flight, zombies attack poor Santa and Zombie Bash: Christmas Attack begins.  With only a candy cane shooter, a pile of presents and holiday cheer, players tap the screen to move Santa and shoot at the undead. There are three classes of zombies to kill, the Gnashers are the fastest, the Scramblers are the nastiest, and the hulking Galutes are practically impossible to stop.
The object of this progressive game – to move from one holiday house to another (there are 8 in total) while keeping the zombies away and Santa alive.  Even the weather becomes more frightful as you move through this demented winter wonderland, changing from snowflakes to snow flurries as the zombies continue to try to take down Christmas.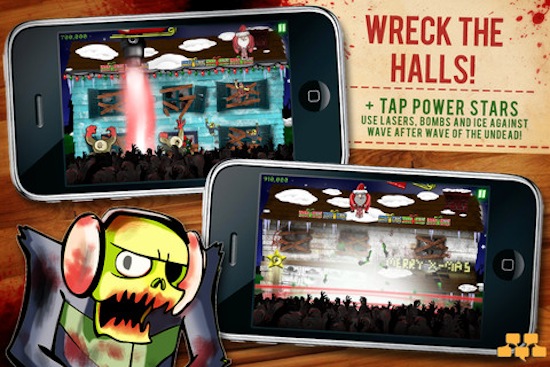 "We are very excited to be introducing Zombie Bash: Christmas Attack," said Ryan Ozonian, founder and chief producer of Mention Mobile. "We thought the combination of zombies and Santa made for a fun new kind of holiday story that could be played and enjoyed all year long.  With amazing graphics and a classic Space Invader game type-feel, Zombie Bash: Christmas Attack offers a great way to spend a couple minutes (or hours) this holiday season."
Selling at a discounted rate of 99¢ Going for FREE, Zombie Bash: Xmas Attack is currently available in the Apple App Store and is the perfect gift for iPhone and iPod touch users of all ages.  Allowing for both individual and interactive play, Zombie Bash: Christmas Attack utilizes Game Center capabilities allowing you to compete against the world and friends.
Mention Mobile plans to make the Zombie Bash brand social in its next update adding your Facebook friends into the mix. For more information please visit www.mentionmobile.com.
Powered by

Sidelines
Previous Post Strawberry Shortcake Celebrates 30 Sweet Years with First-Ever Digital Comic App
Next Post Nine Over Ten 9/10's Charity and Christmas 2011 Gift Guide