Disney's Where's My Water? Debuts on Android
Disney's first original IP hit for iOS devices, Where's My Water? is now available on the Android Market, expanding Swampy the Alligator's quest to be clean to millions of Android device users.   "Where's My Water?", which will be featured on the home page of Android Market this week, stars Swampy the Alligator, Disney Mobile's first original game character for mobile.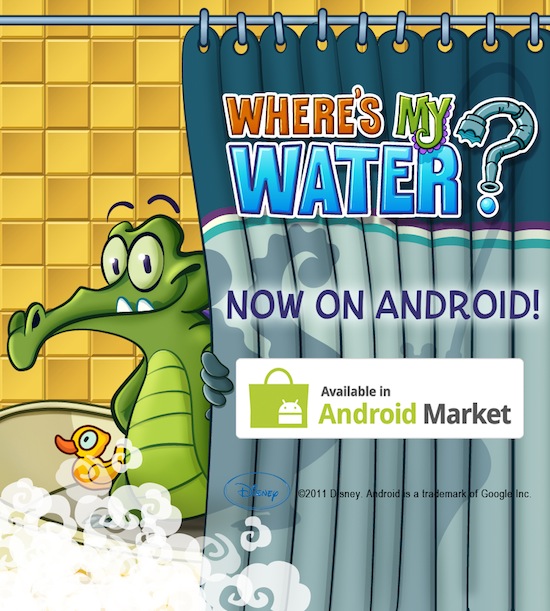 In the game, which sells for $0.99, players guide water through 120 subterranean layers of earth, rock, and broken pipes, and into Swampy's bathtub, all to satisfy the need of a unique alligator with a quest to be clean.  Since launching on the App Store on September 22, "Where's My Water?" has been No. 1 in 30 different countries.
Most recently, Disney announced that Swampy will make his debut online in a 12 episode web series called, "Where's My Water?, the Adventures of Swampy."  The 3-4 minute weekly episodes are slated to launch on Disney Online in January. To download the app, visit: https://market.android.com/details?id=com.disney.WMW
Powered by

Sidelines
Previous Post Check Out Afterfall: InSanity's Latest Trailer, Gold Build is OnLive!
Next Post Atari's Asteroids: Gunner Updated for Multiplayer Mayhem