Appy's SpellCraft School of Magic Coming For iOS Devices This November
SpellCraft School of Magic is Appy Entertainment's (the guys behind Trucks and Skulls) upcoming social/mobile roleplaying game for iOS whereby players take on the role of a young apprentice wizard at the multiverse's most prestigious magical university. The teachers at the university are trapped in the dungeons below the school and it's up to the students to save them by nursing magical plants, brewing powerful spells and doing battle with horrible monsters using strategy and cunning.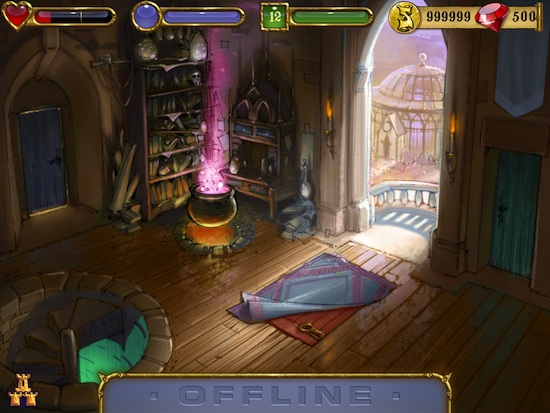 Players create their wizardly avatar, and outfit him or her with hundreds of clothing items and accessories (including animated pets). Each student has a nursery (see Screenshots) where they raise magical plants, harvesting them for the special ingredients used to create powerful spells. Working from their spell book, players swirl their spell cauldron with their finger over an open fire, mixing in ingredients, swirling left or right as the instructions dictate, taking care to go neither too fast nor too slow as they create their volatile spells.
Once spells have been brewed, the player enters the dungeon, exploring each chamber one by one, encountering enemies and hazards in the form of monster cards. Players select their spells from the different disciplines of magic — Fire, Chaos, Water, and Earth — based on their knowledge of each monster's nature and particular vulnerabilities. Casting spells uses a "golf swing" style mechanic where players must use timing to unleash their spell at the optimum moment.
A mix between Magic: The Gathering and Dungeons & Dragons, SpellCraft was built from ground-up for touch-enabled smartphones and tablets. Players can also have multiplayer battles with their friends asynchronously via Apples' Game Center. The game includes fantastic art by Farzad Varahramyan and an original musical score. The game is free with in-app purchases and will be launched this November. Stay tuned to Nine Over Ten 9/10 for more details.
Powered by

Sidelines
Previous Post Off With Your Finger This Halloween: Finger Slayer Seasons Part 3 – Halloween Edition (iPhone) Review
Next Post Acquire Corp. Announces Wizardry: Labyrinth of Souls for iOS Devices