Frogger Goes 3D on iOS Device With New Frogger Decades Game
Frogger is back on iOS devices with Konami Digital Entertainment announcing the release of Frogger Decades. The game was created via a strategic partnership with indie game developer Revolutionary Concepts.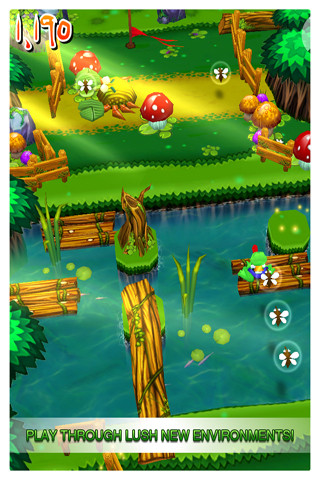 Featuring vibrant graphics and animation that bring to life the Frogger world in celebration of his 30th birthday, the Frogger Decades story begins when Frogger comes back to his home to find a map to his birthday party pinned to the front door. What Frogger doesn't know is that his arch enemy has changed the map, sending Frogger on a wild and dangerous journey to his 30th birthday party.
Frogger Decades showcases five beautifully designed environments to challenge even the most avid Frogger players. From giant crabs to bulldozers, Frogger will have to jump, hop, swing and dodge his way through all sorts of crazy obstacles to reach his destination. Along the way, players have a chance to meet some of Frogger's closest friends, each with their own unique ability, to control and help Frogger reach his goal.
Frogger Decades is available now in the Apple® App Store  for the iPad®, iPad®2, iPhone® 4, iPhone® 3GS, and iPod® touch 3rd generation or greater running a minimum of iOS 3.1.2. Check out konami.com/frogger or go directly to https://itunes.apple.com/us/app/frogger-decades/id454370986?mt=8 to purchase the game at USD 1.99
Powered by

Sidelines
Previous Post Shock Troopers (PS3) NEOGEO Station Review
Next Post Minimalist, Middle Ground and Sandbox Schools of Thought