Machine Gun Jetpack (iOS) is Now Jetpack Joyride, Arrives September 1st!
The game formerly known as Machine Gun Jetpack is now known as Jetpack Joyride. I don't know about you but this new name for Halfbrick's upcoming AAA mobile game doesn't sound very bad-ass. No matter, it still features Barry Steakfries with wildly inventive and creatively propelled jetpacks that the player must guide through obstacles while collecting coins, jumping in wacky vehicles and generally running amok!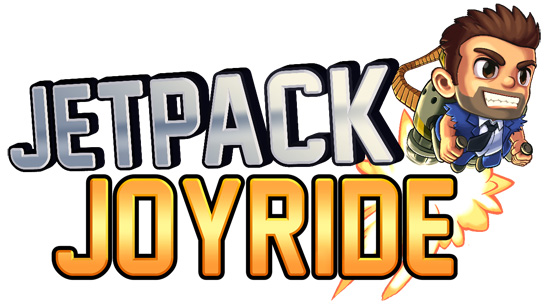 Jetpacks include the legendary Machine Gun Jetpack, but notable new additions include the Steam, Rainbow and Bubble Jetpack, and, for all the sea life fanatics, the Shark Head Jetpack. Jetpack Joyride will skyrocket players into the latest adventure featuring the lovable and mischievous hero Barry Steakfries, who captured hearts and blasted monsters in the previous Halfbrick mobile games, Age of Zombies and Monster Dash. To date the Steakfries franchise has reached over 1 million downloads worldwide.
In Jetpack Joyride, Barry has broken into an evil science laboratory and commandeered an experimental machine gun-propelled jetpack, which he immediately straps to his back to make good his escape. With the world's most advanced and ridiculous technologies slung over his shoulders, Barry must avoid booby traps, electrical fields, laser missiles and more as he races out of the lab while riding a downpour of bullets, bubbles, lasers and rainbows.
"Jetpack Joyride is easily the biggest mobile game we've ever made. It's action-packed but still very accessible to players of all ages." said Phil Larsen, chief marketing officer at Halfbrick. "We took advantage of our strengths as designers to create gameplay and touch-screen input that can be understood within seconds, but the additional layers of content will keep players occupied for hours.
In the latest game development video, Halfbrick staff discuss the new name while showcasing the gameplay and extra content that has now made Jetpack Joyride a AAA mobile game:
Powered by

Sidelines
Previous Post Word Ball (iOS) Review: Not Like Any Other Word Game
Next Post Croma (iOS) Review: Plenty of Potential, But Needs Fixing