iStoryTime's THE SMURFS Storybook App Arrives On iOS Devices, Gives Sneak Peeks At Movie
In conjunction with the upcoming release of THE SMURFS movie on the big screen, iStorytime, the largest library of mobile children's book apps has launched today THE SMURFS storybook app which is available immediately on Apple's iPad, iPhone and iPod touch for a price of USD 2.99. The book follows the original storyline of the movie, giving readers a Smurfy sneak peek of exclusive images and voiceovers prior to the film's release on the 29th of July 2011.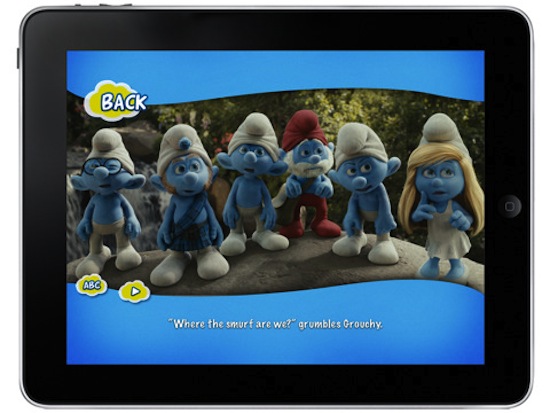 The Smurfs storybook follows the magical little creatures Papa Smurf, Grouchy, Brainy, Clumsy, Gutsy, and Smurfette on their exciting and unimaginable journey to a faraway land called New York City. Fleeing the Evil Wizard Gargamel and his sneaky cat Azrael, the six Smurf friends end up in the apartment of a young couple that is equally surprised by their arrival. With their special humor and a great heart, the Smurfs turn their world upside down and bring fun and action to their everyday routine.
The storybook app also includes a fun and entertaining "Spot-The-Mistakes" game that features three separate scenes to challenge the concentration and eagle eyes of all Smurfs fans, big and tiny for a Smurfing hide-and-seek good time. Each scene contains two side-by-side image from the film with one of them missing several items that need to be found. Once found, users simply tap on the missing item to complete the scene and win the game.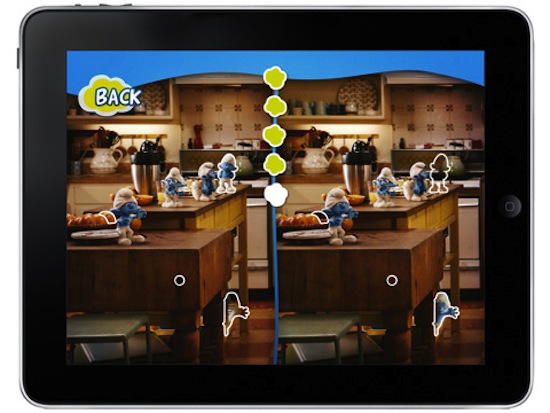 "We're very excited to bring some of the most beloved little blue characters in history to the iOS platform," said Woody Sears, co-founder of iStoryTime. "The Smurfs are a favorite of my family, as they have been for generations, and we're sure parents and their children will enjoy the new storybook app."
iStoryTime brings the joy of a kids' book to the convenience of the iPhone, iPad and iPod® touch. iStoryTime books are illustrated and narrated, so children can enjoy the book even when parents are busy. Best of all, the apps are simple to use because they are designed for kids two-years and up. Check out the app over here: https://itunes.apple.com/us/app/the-smurfs-movie-storybook/id449796732?mt=8
Powered by

Sidelines
Previous Post Vetasoft Releases 8 bit Vs 16 bit 1.0 Shmup for iOS
Next Post BlibBlob (iPhone) Game Review: Disappointing, Boring Platforming Experience