Leo the Lightning Bug Arrives on the App Market From Oceanhouse Media
The award-winning book, Leo the Lightning Bug is now available as an omBook (e-book) app for both Apple (iOS) and Android devices at an introductory price of USD 2.99. Our friends at Oceanhouse Media has partnered with Kidwick Books to bring this heart-warming tale to the two app markets. Check out the following press release for more details:
The story of Leo the Lightning Bug is now available as an omBook (Oceanhouse Media digital book) on Apple and Android devices for the introductory price of $2.99. Oceanhouse Media, Inc. has secured the rights to bring this award-winning tale to the app market through a new licensing partnership with Kidwick Books.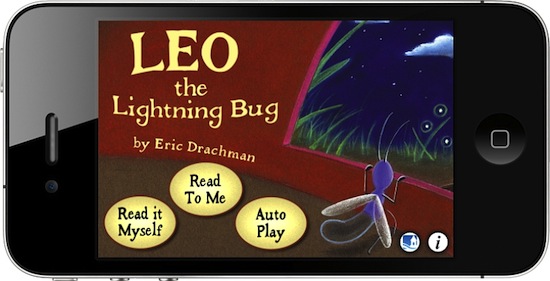 Written by Eric Drachman and illustrated by James Muscarello, Leo the Lightning Bug captures emotions many children feel growing up. Leo is "the littlest lightning bug of all" who can't seem to make his own light. Despite other lightning bugs teasing him, with determination, motherly support and a little luck, Leo eventually lights up in the night. With his newfound confidence, Leo now laughs at himself, plays with the other lightning bugs and enjoys a good night's sleep.
"Leo the Lightning Bug is a perfect example of how a picture book can be transformed into a fun, interactive app," said Michel Kripalani, founder and president of Oceanhouse Media. "Colorful illustrations, a beautiful narrative and a main character that kids can identify with are the essence of good storytelling. We welcome Kidwick Books onboard as our newest partner and are honored to be the digital publisher of their heart-warming books."
Leo the Lightning Bug reached the No. 2 spot on the Los Angeles Times Children's Bestsellers List. Additionally, the book received the Benjamin Franklin Award for Best Children's Book and Audio Book by the Publishers Marketing Association (now called the Independent Book Publishers Association). It also was a Book Sense 76 Children's Pick and received an Honorable Mention by ForeWord Magazine for its Book of the Year Award.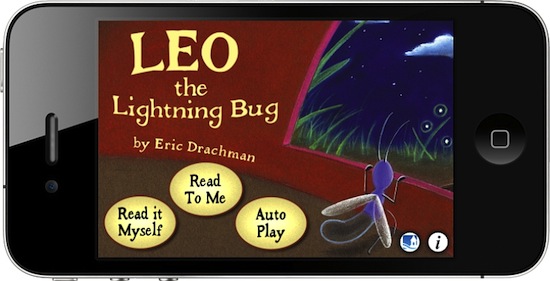 "I'm proud of the awards Leo has garnered, not to mention the emails I get from my little readers," said Drachman, who also narrates the story and plays the role of the lightning bug, Lester. "My books all come with a fully produced audio CD with children playing the kids' roles and sound effects. For my audience to be able to enjoy this audio at the touch of a button along with the visual in the omBook version really adds to the experience. I've been looking for a developer to make my books into apps for quite a while, but I held out for a really elegant solution, which I found in the Oceanhouse Media apps. You might view Leo on the small screen of a mobile device, but with the omBook treatment, the "pages" come to life and the fun and lessons that are to be found are as big as ever!"

Meant for children three to seven years old, Leo the Lightning Bug features three options: Auto Play (geared toward younger readers), which plays like a movie by automatically reading and turning pages; Read To Me, which allows users to listen to the narrated story with words highlighted as they are read; and Read It Myself, which lets users read the book in its traditional format. Special features include original artwork, word highlighting, professional audio narration and scene-by-scene custom background audio.
For more info, visit https://www.oceanhousemedia.com/
Powered by

Sidelines
Previous Post First Gameplay Screenshots Unveiled for Skillz: The DJ Game
Next Post Exit Games Partners with Marmalade to Power Fast and Easy Development of Online Games on Multiple Platforms