Hothead Games and Richard Garfield to Release New TCG for iOS Devices: Kard Combat
Looks like the iOS platform (iPad & iPhone) is fast becoming the battleground of choice for virtual Collectible Card Games that take their cue from games such as Magic: The Gathering. Previously we had Shadow Era, and now, Hothead Games has announced the imminent arrival of a new iOS strategy/trading card game called Kard Combat.
To distinguish the game from the rest of the competition, Hothead had brought in Richard Garfield, the creator of Magic: The Gathering as a co-designer for Kard Combat! According to Hothead Games, Mr. Garfield has long wanted to create a video game that felt similar to playing Magic, and Hothead has achieved that by offering beautiful-looking card art, plus free multi-player mode, in addition to single duel and battle campaign.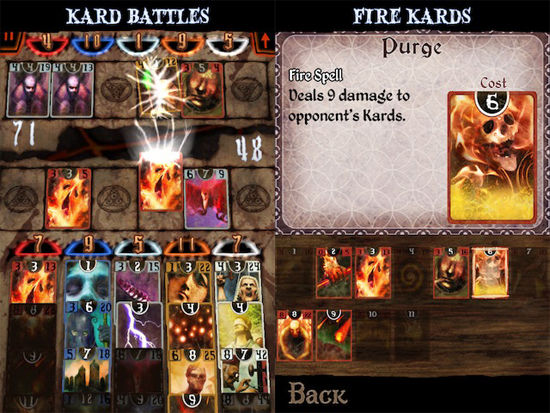 Excited? I know I am. Check out the following press release for more details:
Hothead Games today announced Kard Combat, a single and multiplayer strategy card game for iPhone and iPad, available to download for free and coming soon to the App Store. In Kard Combat, players choose their destiny by selecting a mage and participating in an ancient tournament of cards and magic.
One of the game's co-designers, Richard Garfield, creator of the collectible card game phenomenon, Magic: The Gathering comments: "For years I've wanted to create Magic-like experiences for people who play video games. Kard Combat on iPhone and iPad does this and is simple enough for anyone to pick up and play, but with plenty of depth for the hardcore player. Hothead has created a truly magical game."
Kard Combat features:
A 33 battle campaign with unique challenges and collectible items
Free online Multiplayer mode to battle friends and foes
Single Duel mode to sharpen your skills
Over 100 incredible, hand-drawn cards to collect and cast in battle
Four unique mages to master, each with their own strengths and abilities
OpenFeint and Game Center enabled
Check out the trailer over here:
Kard Combat will be available to download for free in the App Store soon. For more information, visit www.kardcombat.com
Powered by

Sidelines
Previous Post Indie Game Developer Interview: Spilt Milk Studios (UK)
Next Post Eminem To Star In Batman: Arkham City As Robin, The Teen Wonder