Popular iPhone Game Doodle Grub Gets Timely Upgrade, Goes Multiple Mobile Platforms As Well
Pixowl Inc's Doodle Grub for the iPhone must be doing something right. 1.5 million players and counting worldwide isn't exactly chump change and it's heartening to know that the developers are repaying their fans with an update to Doodle Grub, bringing the Snake-inspired game to version 2.3. Doodle Grub is also reaching out to fans on the iPad, Android devices as well as Facebook with the release of platform-specific versions of the game. Check out the press release below for more details: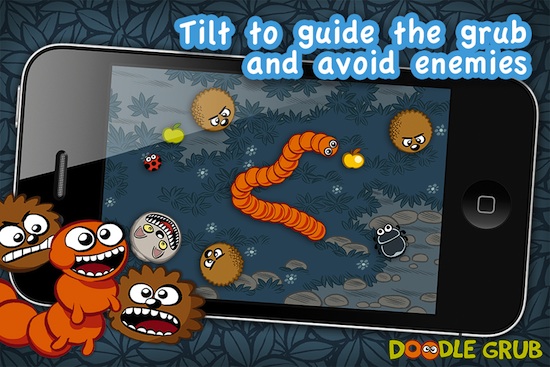 FREE POPULAR SNAKE GAME ON IPHONE HITS BACK: "Doodle Grub" gets a major update on iPhone and comes to iPad, Android and Facebook
San Francisco – June 14, 2011 – Pixowl Inc. announced today the release an update to Doodle Grub, their popular free casual mobile game, inspired by the classic game Snake.  The title has reached 1.5 million downloads and counts more than 200,000 active players every day. Praised for its successful combination of beautiful graphics and addictive gameplay, Doodle Grub received positive feedback from critics and gamers alike.
The game takes full advantage of the iPhone's accelerometer, allowing players to control the movements of the worm by simply tilting their device. The main goal is to collect apples to grow while avoiding several enemies that slope around the screen.
Designed by Laurel, a famous French comic book illustrator, the game comes with 11 various themes to play in, each with their own unique enemies, apples and dangers. Doodle Grub's distinctive feature that makes it stand out from other games of its kind is Wireless and Bluetooth multiplayer mode supported via Game Center. Players can also challenge their friends and family to beat high scores and post them to their Facebook and Twitter profiles.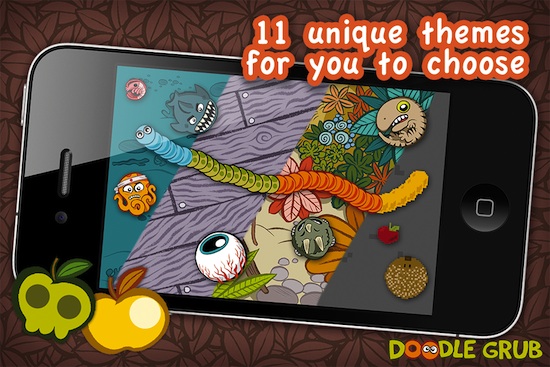 Pixowl Inc. is excited to let more mobile users enjoy the highly entertaining gameplay of Doodle Grub:
iPhone: the new update brings integration with the OpenFeint social gaming network together with its achievements and community features.
iPad: HD version with optimized gameplay and even more enemies on the screen
Android: the long awaited adaptation is finally released, works on all android smartphones and tablets
Facebook App: now users can test their skills and challenge their friends in a competition on Facebook social network
"We couldn't be happier about the tremendous success of Doodle Grub. We think Doodle Grub is a must-have game for all smartphone owners because it's free and easy to play. We're really thankful to all the players and we will keep up pleasing them with regular updates and new addictive games!" – said Sebastien Borget, Adrien Duermael and Arthur Madrid, founders of Pixowl Inc.
Pricing and Availability
Doodle Grub (FREE) and Doodle Grub HD ($2.99) are available worldwide through the App Store in the Games category. Check out the game over here: https://itunes.apple.com/us/app/doodle-grub/id375749524?mt=8
Powered by

Sidelines
Previous Post Appache Mobile Releases Legacy: Mystery Mansion for iOS
Next Post Hard Lines (iPhone) Review: Light Cycles + Snake Hybrid ROCKS