Outwit Menacing Aliens with Joe Versus (iPhone)
Aliens are in vogue this season. From the silver screen to video games, they are always the go-to-guys in popular media. Idaho-based Star Technologies have announced the recent release of Joe Versus for the iPhone, iPad and iPod touch. Set in deep space, this wildly stylized 3D puzzle adventure tests players reflexes and craniums, challenging them to out-maneuver an onslaught of rolling tetrahedral pyramids.
Check out the press release below for more details: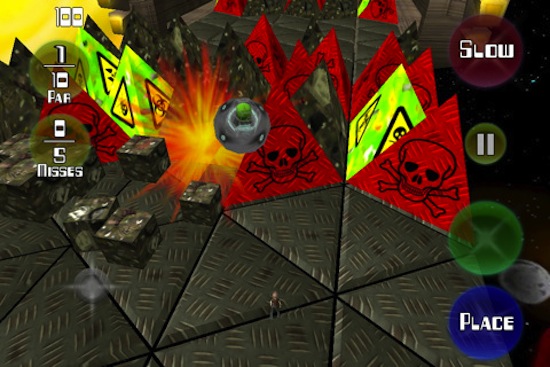 Star, Idaho – Star Technologies, an imaginative mobile games developer, has today announced the recent release of Joe Versus 1.0 for the iPhone, iPad, and iPod touch. The developer has also announced a limited time sale on the game in celebration of its release to App Store Shoppers. Joe Versus is a wildly stylized 3D puzzle adventure that pits the player against an onslaught of rolling tetrahedrons, challenging them to stay alive and destroy every incoming pyramid on the app's galactic game board.
This space adventure combines the lightning fast arcade-style gameplay with the genuine problem solving engagement of classic puzzle games such as Tetris or Frogger. Built to entertain players' brains in kinetic and visually stunning ways, Joe Versus is currently available for download on the Apple App Store for the sale price of $0.99 for a limited time only.
This unique action fueled mobile gaming experience doesn't simply cater to the problem-solving clique. Joe Versus takes some of the best aspects of different gaming genres and blends them to create a puzzle app that's as much an action game as it is a richly themed, narrative driven adventure game. The app's story centers on Joe Versus, a space explorer whose crew is taken hostage by an ultra-clever puzzle loving alien.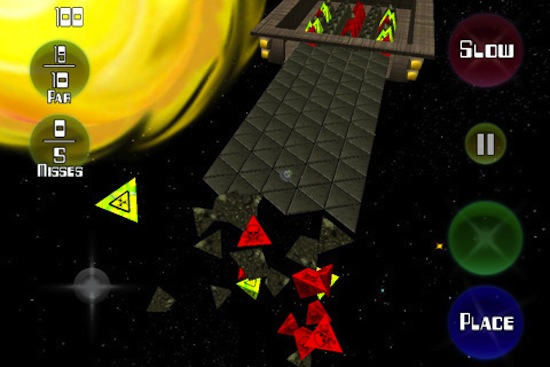 The challenge from there is simple. Joe must outplay the alien in a game of wit to save his crew and the rest of the universe along with them! To play the game, users must guide Joe across a board of triangles, with rows of pyramids rolling towards him from its far end. The player must blow up every pyramid on the game grid in less than the number of allowed moves, all while not letting too many of these terrifying tetrahedrons roll off the game grid. It's a task that's just as fun, frenetic, and challenging as it sounds!
The application itself is not just supremely exciting, it's a well-rounded and well polished mobile entertainment experience as a whole. The game offers users HD three dimensional graphics, an energetic original soundtrack, and even gives players the option to rock out to their own music library while they play too.
To ensure that Joe Versus and his wildly puzzling space exploits stay accessible to novice players, the game features a built-in interactive tutorial as well. Its time for mobile gamers of all ages to strap on their space boots and test the limits of their own wit and reflexes through a game that's both beautifully rendered and absolutely addicting as well.
Mobile gamers don't simply want a puzzle experience, an action-filled diversion, or an adventure game. They want everything all at once. With the release of Joe Versus, they can now have just that! Check out the game over here: https://itunes.apple.com/app/id409893711
Powered by

Sidelines
Previous Post Today in Comics: Dracula vs. Captain America
Next Post Indie Developer DR Studios to Release Bug Wings (iPhone, iPad)