Ball Busters (iPhone) Game Review: Arkanoid Clone with Great Value For Money
I remember playing a version of Arkanoid on the Nintendo DS that came with a paddle controller of sorts, you turned the dial on the controller to move the paddle around on the screen. While there's no such unique controller on the iPhone, there are no doubt tonnes of Arkanoid-inspired games out there on the App Store, one of them being the tongue-in-cheek titled Ball Busters.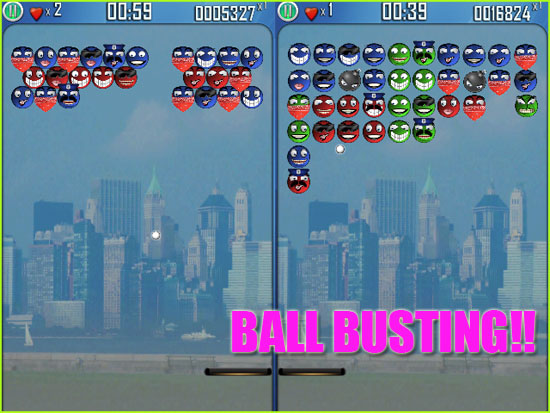 So how do the developers Next Gen Games distinguish their product offering from the myriad of similar concept games out there? They do so by injecting some personality into the game. The balls on the top of the screen in which you are tasked with breaking are characters in their own right, it's not uncommon during a level to hear soundbites from any one of them, and that's pretty interesting.
Another area that deserves mention would be the power-ups, and while there are the typical Arkanoid-like staples such as multiple (bigger) balls and elongated paddles, others weaponise the paddle, giving it the ability to launch rockets or spray bullets like a machine gun. Pretty cool eh? In some levels the weapons become necessity to destroy every single thing.
Movement can be a little jerky sometimes and those who have big thumbs will find that they would end up obscuring the paddle, hence preventing them from returning the ball properly. Perhaps moving the the paddle a few millimeters up the screen would help. There's also the lack of kinetic movement, there are times where I've to be content with the ball bouncing from between the right and left walls all the way until the end.
In any case, Ball Busters is a pretty good and noteworthy experience on the iPhone. There are like 6 different worlds and 120 levels; that's pretty good value for money. Nine Over Ten 9/10 awards Ball Busters with a 3 1/2 over 5. RECOMMENDED.
Ball Busters is available on the iPhone for USD 0.99. Check it out over here: https://itunes.apple.com/us/app/ball-busters/id412207284?mt=8. A review code was provided by Apalon to Nine Over Ten 9/10 for the purpose of this review.
Powered by

Sidelines
Previous Post Kami Retro (iPhone) Review: This Game's So Good You Gotta Get It Now!
Next Post Mac Games For Japan Relief Bundle – Save on 15 Games