Kami Retro (iPhone) Review: This Game's So Good You Gotta Get It Now!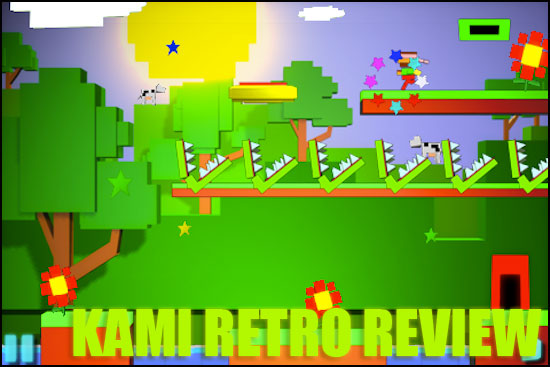 I might as well sum up the entire experience of playing Kami Retro on the iPhone by saying "This game is awesome, go get it now!", but that wouldn't qualify as a full-fledged article, wouldn't it? The guys and gals over at Gamevil and Paw Print Games have brought us a 2D platform puzzler in the form of Kami Retro, which also, as the title implies, happens to be a homage to retro games of yore.
The gameplay is pretty simple, guide a bunch of Kamis, one by one, to the exit of every level. These Kamis are a little like Lemmings, in which guidance is necessary. Players flick and swipe to command the Kami to jump or move in a certain direction. In addition to getting to the exit, Kamis can be directed to collect stars which contribute to the player's high score and are also used to unlock levels.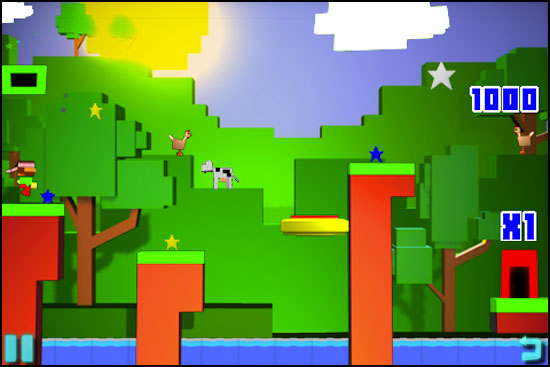 Levels are peppered with traps, pits and what not, but one thing about Kami Retro that really grabs your attention would be the art style. It looks amazing. Whoever that thought about the modern, pixelated look should be given an award or two. This game is easily one of the prettiest (nevermind the Infinity Blades and the N.O.V.A.s) iOS games out there on the market.
The difficulty level gets harder and harder gradually, making it easy for novice players to get into the game while appealing to hardcore ones as well in a sense that they would want to collect all the stars in every level with every single Kami they've got! The game comes with Game Center integration which provides both online leaderboards and achievements.
Having played the game some levels are so memorable (read: challenging), they probably deserve their own achievement badges when completed. Nine Over Ten 9/10 rates Kami Retro a perfect 5/5, and allow me to borrow a line from the first paragraph: "This game is awesome, go get it now!"
Kami Retro is currently available on the iTunes App Store for USD 1.99. Check it out over here: https://itunes.apple.com/us/app/kami-retro/id424188363?mt=8. A review code was given by Gamevil to Nine Over Ten 9/10 for the purpose of this review.
Powered by

Sidelines
Previous Post CarZen Debuts First Car Research and Shopping App for the iPad; Makes Shopping for New Cars Easier, Faster, Better
Next Post Ball Busters (iPhone) Game Review: Arkanoid Clone with Great Value For Money