Tasty Planet HD Released For iPad: 2D Katamari Damacy Comes To Mind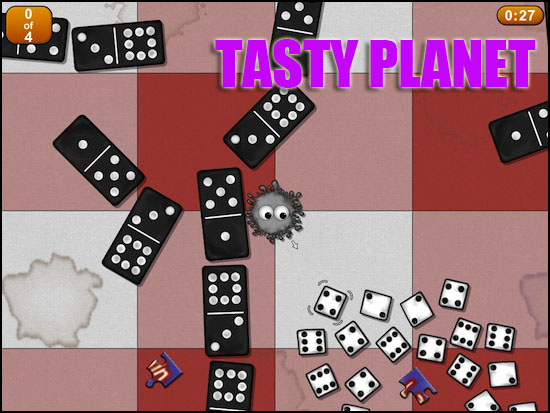 While we're waiting for a whole bunch of app updates to be downloaded, here's something of a 2D game inspired by the likes of Katamari Damacy and its sequels. Check out the press release below for more details and video trailer on Dingo Games' Tasty Planet.
Tasty Planet HD for iPad – Eat Everything in the World
Vancouver, Canada – Dingo Games today is pleased to announce the release of Tasty Planet HD for iPad. In Tasty Planet players control a tiny ball of grey goo which eats everything smaller than itself. The more it eats, the bigger it gets. As players make their way through the game's 60 levels, the goo grows from a bacteria eating microbe into a planet gobbling monster.
Comic strips throughout the game tell the story of two scientists trying to create the world's greatest bathroom cleaner. Using nanotechnology they design a ball of grey goo to eat all the dirt and bacteria in a bathroom automatically. Unfortunately, a slight miscalculation causes their ball of goo to eat more than just bathroom dirt; it starts eating everything. Now there is no stopping this out-of-control bathroom cleaner.
The iPhone version of Tasty Planet reached #1 in the App Stores of Canada, Denmark, and Norway. Tasty Planet HD natively supports the iPad's large display and features improved touch controls. The game also includes Game Center achievements and leaderboards.
Device Requirements:
Compatible with iPad
Requires iOS 3.2 or later
14.3 MB
Pricing and Availability:
Tasty Planet HD 1.0 is $2.99 USD (or equivalent amount in other currencies) and is available worldwide exclusively through the App Store in the Games category. Check it out over here: https://itunes.apple.com/app/id422814977
Powered by

Sidelines
Previous Post Archetype (iPhone/iPad) Gets New Update: New Content, New Game Mode And Many More
Next Post Appboy Brings Application Check-In Like Foursquare Brings Location Check-In