Dungeon Raid 1.2 for iPhone – Now with Game Center and OpenFeint
And now, time for some news, the guys behind Dungeon Raid for the iPhone and iPod touch, Fireflame Games, has just released the latest update to that game which bring about global leaderboards (via OpenFeint and Game Center) as well as new gameplay enhancements such as 10 new enemy types and an improved item system. Check out the press release below for more details:
Dungeon Raid 1.2 for iPhone – Now with Game Center and OpenFeint
Sydney, Australia – Announcing that Fireflame Games, the developers of Dungeon Raid, have released their latest update to the fun and addictive game for iPhone and iPod touch users. Players updating to Dungeon Raid 1.2 will now be able to compete for the highest score in 8 separate categories in the global leaderboards offered by Game Center and OpenFeint, as well as enjoy numerous gameplay improvements.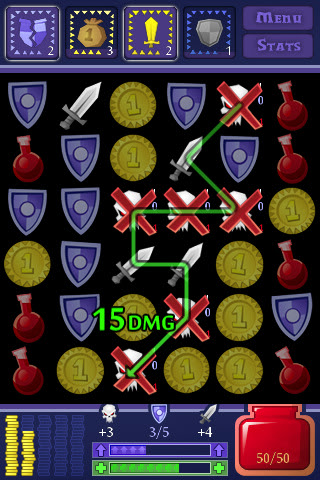 Dungeon Raid is a puzzle game with roleplaying mechanics, most reminiscent of a match-3 roguelike. By tracing a path and collecting matching tiles, players can buy and upgrade weapons and armor in the updated item shop, level up their character and fight off the enemies whose devious ranks are even more varied in this 1.2 update.
There are some cool extras for players of Dungeon Raid. They can play their own music, save a game at any time and return to finish later, as well as select from four different levels of difficulty, including an easy relaxing level for learning the game or when a player feels like something a little slower paced.
Dungeon Raid has been specifically designed and developed for optimum enjoyment on an iPhone or iPod touch. Since release, it has garnered universally positive comments in iTunes, and has been well-received by a number of major websites and blogs. Players and reviewers alike have reported being surprised at just how much fun the game is and how far it has exceeded their expectations.
Dungeon Raid 1.2 is only $2.99 (USD) and available worldwide exclusively through the App Store in the Games category. Check it out here: https://itunes.apple.com/us/app/dungeon-raid/id403090531?mt=8
Powered by

Sidelines
Previous Post Owning a Mac: Week 3
Next Post Kids These Days: Teenager Gets Credit for Coming Up With Idea for an iPhone/iPad Game