DOS Emulator for the iPhone/iPad Makes It Back to the App Store
This is interesting, controversial DOS emulator for the iPhone/iPad, iDOS, which was previously pulled from Apple's iTunes App Store, is now back with on the App Store but not without some interesting changes. For starters, iTunes File Sharing has been turned OFF! This prevents users from adding DOS programs via iTunes, which pretty much defeats the purpose of having the emulator in the first place.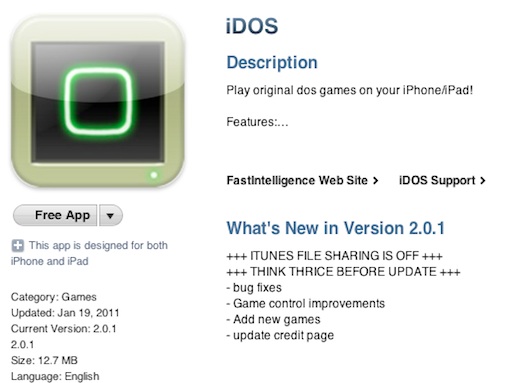 Secondly, the update brings about several freeware DOS games, namely Wolf3D, Duke Nukem I/II, Major Striker, SuperNova and Kingdom of Kroz II, all of which are from the product catalogue of 3D Realms (Apogee Software Ltd). The new games might be tempting but think about the disabled file sharing function.Like what the developer says, think thrice before updating if you already have the earlier version of the app!
iDOS is available on the App Store for free, check it out over here: https://itunes.apple.com/us/app/idos/id377135644?mt=8
Powered by

Sidelines
Previous Post The Great Star Walk & Solar Walk Promo Code Giveaway!
Next Post Good News from Two iOS App Publishers: Tapulous and G5 Entertainment