Samurai II (iPhone) Developers Launch New Game: BloodyXmas 2010
Remember the hyper-violent but brilliant Samurai II: Vengeance reviewed not too long ago on Nine Over Ten 9/10 (click here for a refresher)? MADFINGER GAMES, the crazy developers behind that game have come up with a new 3D hack and slash game just in time for Christmas,  aptly titled BloodyXmas 2010. From the looks of things, the game carries on the tradition for hyper-violence and bloodbaths that we have grown to love in Samurai and Samurai II. Full details are right after the screenies: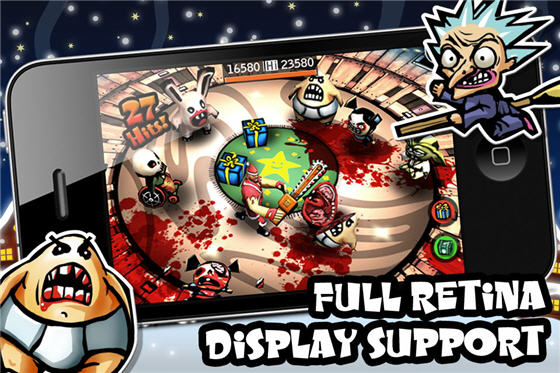 Brno, Czech Republic – Czech based MADFINGER Games today is proud to announce BloodyXmas 2010, their new 3D survival hack and slash game for iPhone and iPod touch. From the creators of critically acclaimed iPhone games 'Samurai: Way of the Warrior' and 'Samurai II: Vengeance', BloodyXmas combines gorgeous cell-shaded 3D graphics with an enhanced survival game experience and an intuitive control scheme, to protect Christmas presents against hordes of zombies, skeletons, witches and other monsters.
BloodyXmas is all about protecting Christmas presents in Santa's workshop. You play as Santa with a simple control scheme. Use any of the weapons available in Santa's workshop: cleaver, saber, sledgehammer, chainsaw, and one massive secret super weapon. The game features:
Five powerful weapons
Unique enemies
24 Stages, one for each day leading up to December 25th
Original MADFINGER's gory gameplay
Intense hack and slash gameplay
Beautiful, stylized cell-shaded graphics
Support Retina display
Support Game Center
Amazing Soundtrack (perfect for Christmas dinner)
"You have to utilize the available weapons in the best possible way to kill as many intruders as possible to dominate the online leaderboards. The more presents you have, the more points you will get!", said Santa… Don't let anyone steal the children's presents! HO HO HO! Happy Holidays! Santa Slays!
Device Requirements:
iPhone, iPod touch, and iPad
Requires iOS 3.1.3 or later
19.8 MB
Pricing and Availability:
BloodyXmas 2010 is only $0.99 (USD) and available worldwide exclusively through the App Store in the Games category: https://itunes.apple.com/us/app/bloodyxmas-2010/id406944464?mt=8
Powered by

Sidelines
Previous Post Geometrica Wallpapers (iPhone) App – Free to Download Today!
Next Post BloodyXmas 2010 (iPhone) Game Review: Santa Has A Cleaver