Best Selling iPhone Game Fragger Brings Novel Approach to Retina Display Graphics
The guys from Miniclip, the ones behind one of the top paid iPhone games, Fragger, dropped by my e-mail to inform me that the game is also the very first iPhone application with Retina Display graphics download-able from within the app itself. Normally what developers will do would be to bundle in Retina Display optimised graphics in game updates, making users re-download entire games. The guys at Miniclip however do it different.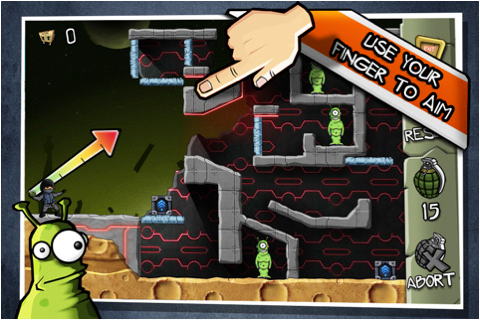 After downloading the game on the iPhone 4 or a fourth generation iPod touch, players will have an option within the game to upgrade the graphics to be Retina Display optimised. This will then trigger a download to update the graphics to HD. The rationale behind this is that the game's binary, or footprint, will be kept small (19.4 MB) and users of old devices need not spend time or space to download the additional 70 MB of RD optimised graphics that they'll be not using.
Pretty cool huh? Here's a little bit more info on the game itself: Fragger is a top selling physics game (kinda reminds me of  Worms if you watch the trailer above) that has been the number 1 paid app in UK and occupied the 2nd place in the paid app chart in the USA. It will be reaching an amazing 1 million paid downloads in the next few weeks having sold 950,000 at the moment. It currently has 130 unique levels, Game Center support, Retina Graphics and a huge followers community.
Check out Fragger over here: https://itunes.apple.com/us/app/fragger/id373046496?mt=8
Powered by

Sidelines
Previous Post Archetype (iPhone) Updated: Game Center, New Arenas and New Modes (CTF)