Archetype (iPhone) Updated: Game Center, New Arenas and New Modes (CTF)
One of the better MMO FPS out there for the iPhone, Archetype's latest update not only brings about a new USD 0.99 price point, but also Game Center, a new online story campaign and an option to purchase a DLC, dubbed as Chapter 2 of the online story campaign which also carries 6 new arenas, and the long awaited Capture-the-Flag (CTF) game mode for just USD 2.99. Check out the following press release for further details:
Double the iPwnage, Double the Fun: Explosive New Content for Archetype Adds New Modes, New Arenas, and Game Center. Highly-rated iPhone Online FPS from Villain Gets New $.99 Price, Adds Update with Game Center, Online Story Campaign, and DLC Featuring New Environments, Arenas, and Capture the Flag Mode
San Francisco, CA – October 22, 2010 – Villain™, an independent publisher of fiendishly entertaining portable game titles, announced today the release of major update with new features and explosive new in-app paid downloadable content (DLC) for Archetype, its top-selling and critically acclaimed online first-person shooter game for the iPhone and iPod touch.
The free update for the core game adds full Game Center support with multiplayer matching, Achievements, and Leaderboards, a new online multiplayer story mode, and a new Shotgun Arena among other improvements. In conjunction with the update, Villain announced a new lower price of just $.99 for Archetype, a savings of 66%.
"Players asked for more levels, Capture-the-Flag, and Game Center support, and we listened," said Dane Baker, Lead Producer at Villain. "Gamers can now experience iPwnage with an unfolding story as they explore new maps located throughout the galaxy, wage war to bring home the flag, and take full advantage of Game Center to join matches, earn Achievements, and follow Leaderboards."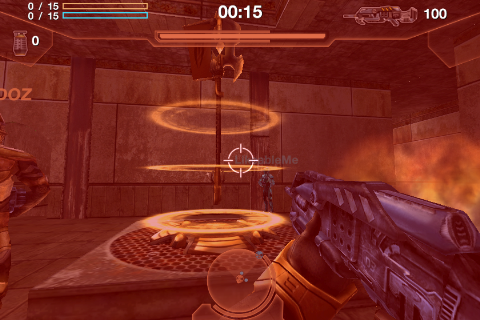 The update's multiplayer story mode takes players through the game's original seven levels that comprise Chapter One of the Archetype adventure. The unfolding story is unlocked through Campaign online play and revealed to the player through logs and messages addressed to the player's combat tag. After the update is installed, players have the option to purchase the DLC, which comprises a Chapter Two of the online multiplayer story mode as well as delivering six new game arenas, doubling the number available in the core game, and the much-requested new Capture the Flag game mode. The DLC pack, which costs US$2.99 in the US App Store, includes the following new content and features:
Capture the Flag mode: Battle it out with 10 players to capture the other team's flag in new open arenas. And when you have the flag, you're not defenseless—bludgeon your enemies with the new flag weapon.
Three new Environments, including the game's first outdoor map: Crimson Moon (Outdoor Mining Base of Torim Kafto), Aqua Lock (Derelict Dam on Thata Prime) and Obsidian Skirmish (Military Deep Space Transport)
Six new Arenas for Team Deathmatch (TDM) and Capture the Flag (CTF) play:

Crimson Moon TDM: Open arena perfect for precision sniping
Crimson Moon CTF: Avoid the deadly lava
Aqua Lock TDM: Multiple elevations, open areas, and water
Aqua Lock CTF: Use the waterways to confuse your pursuers
Obsidian Skirmish: Fight your way through the Obsidian in traditional TDM
Avarice CTF: Defend your flag in this revisited vertical arena
The update and the new pricing make an unbeatable combination both for new players, who can try out Archetype for less than one dollar, and for veteran players, who can re-experience the game in story mode or add a double-size portion of Archetype goodness with new levels and a killer new game mode. Archetype HD for iPad will get a similar content and feature update in the coming weeks.
Archetype was developed by MunkyFun, and published by Villain. For more information, visit villainhq.com/archetype
Powered by

Sidelines
Previous Post App Update: Diner Dash and Cooking Dash Get Spooky With Halloween Themed Updates
Next Post Best Selling iPhone Game Fragger Brings Novel Approach to Retina Display Graphics