Three or More: Monster Match (iPhone) Game Review – It's Halloween Time!
Sometimes the simplest games are the ones that are hardest to review. For example, Match-3 type of games are a dime a dozen on the iPhone, so much so you'd know what to expect from such games. It's a pretty standard template that is pretty much expected of and doesn't call for much deviation from and when implemented successfully, makes just about anyone happy to play the game. Mighty Fun App's latest game for the iPhone, Three or More: Monster Match matches (pun not intended) the template somewhat, but there's still room for improvement.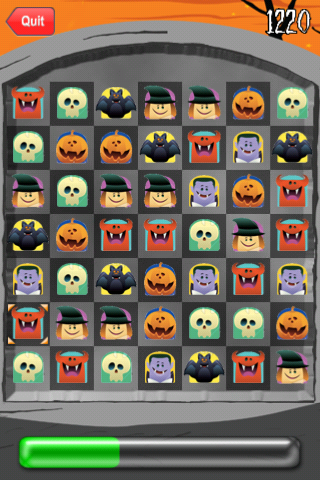 First up, the good: While similar to Bejeweled, Monster Match replaces the jewels with monsters, typical horror movie staples like skeletons, vampires and even jack-0-lanterns. It's pretty cool to see that everytime you start a new game (either on the Timed or Endless modes), you get to see at least a new monster type on board. Like all match-3 games, you are supposed to match 3 or more monsters of the same type, horizontally or diagonally in order to obtain points.
The modes are pretty self-explanatory. The Timed mode is basically a race against the clock to get as many points as possible before running out of time. The Endless mode has a strange feature whereby you are given 6 owl icons representing 6 boards. I'm thinking that the game's board locks-up (in which there's no possible way to form a match-3) and therefore this is needed to refresh the board everytime this happens.
The soundtrack sounds like it is a variation of the Addams Family theme. Pretty good considering this is game about horror movie monsters. LOL.The game has a nice touch in which you can exit and re-enter the game, continuing where you left of.
Now, about expectations and this is where we get to the bad part of the review. There's plenty of room for improvement in Monster Match. Match-3 feature staples like combos and power-ups are missing and the game can certainly benefit from having these. I noticed that the points progression can be really slow and with these on-board, it would be a marked improvement. Game Center or OpenFeint integration would be a nice thing to have as well, given the penchant for match-3 players to compare scores.
Three or More: Monster Match is a promising match-3 game on the iPhone/iPod touch. While it's simple and fun to play (not to mention it has a great Halloween theme), I'm betting that the developer will be rolling out improvements to the core gameplay as well. In the mean time check out the game, it is currently being sold at USD 0.99 on the App Store: https://itunes.apple.com/us/app/three-or-more-monster-match/id396828256?mt=8
Powered by

Sidelines
Previous Post Virtual City (iPhone) Update Imminent: Sandbox Mode is Coming!
Next Post TeamLava Releases Restaurant Story Universal App (iPhone/iPad) for Free!