BACIS (iPhone) Review
I can't help but feel that I've played this game before even though it was the first time I was playing BACIS on my iPhone. It must have been the gameplay, the often flogged puzzle whereby you have to lead something, in this case a bacteria, through a maze to some point, in this case, the appropriate sink which matches the colour of the bacteria. And of course, there's a catch whereby if the bacteria is led off the maze, it's game over.
In other words, it's like Pac-Man meeting a game of GO or something. In any case, if there's any form of redeeming quality in BACIS it has to be the graphics. Those little critters (read: bacteria) are well drawn and animated, and who would have thought the bathroom tiles that make up the maze would look so icky and gorgeous at the same time.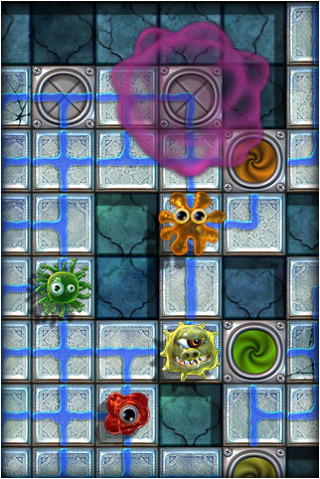 BACIS is one of those run-of-the-mill games that you typically can find on the iPhone these days. The platform's very responsive capacitive touchscreen makes the game possible as you have to flick those little critters but what other puzzle game hasn't done this before? If you want to check out some run-of-the-mill puzzle action, give BACIS a try, but I can't promise it will have you hooked.
The game is now out on App Store for USD 1.99, check it out over here: https://itunes.apple.com/us/app/bacis-the-puzzle-game/id376230369?mt=8
Powered by

Sidelines
Previous Post Football Fans Rejoice: Pro Evolution Soccer 2010 Comes To iPhone/iPod Touch
Next Post Star Wars: Battle for Hoth (iPhone) Coming in July!