Boostball (iPhone) Review
It's pretty safe to say that even my iPhone is not immune to the on-going Football/World Cup fever that is on-going all over the world. Having installed my fair share of football (read: soccer) related games and apps, including the prerequisite FIFA World Cup 2010 by EA, one of the more off-beat ones would be Boostball from developers Blacksmith Games.
Boostball is essentially a dribbling game. You move the ball by tilting the iPhone left or right, avoiding plenty of obstacles in the form of caricatures, some of them moving, some of them not. There are certain pads of that you need to dribble the ball to keep it moving forward, and there are power-ups to collect that make it easier to get through obstacles. Bear in mind that bumping into the obstacles immediately results in a game over and it's always a satisfying experience in dribbling pass an obstacle, especially a moving one.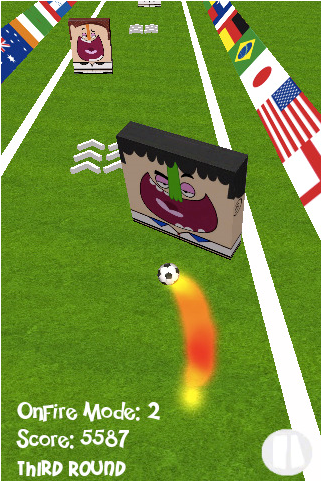 The game has two modes, Training and Tournament. In my opinion, the Tournament mode is pretty easy and straight forward. The level is broken up into stages (those familiar with football tournaments will definitely recognise the stage names), and moving past the goalie in each stage brings you to the next stage seamlessly. The Training mode is more rigid, but it's actually represent the endless mode of the game. Here, you have to maneuver the ball without getting out of the lane marked down by the training cones. And yes, it definitely sounds easier than in practice.
In other words, while you can get away with swerving the ball all over the place in Tournament mode, Training mode is like the endless ranting from a drill sergeant, keeping you in line and testing your endurance. That's pretty much how an endless mode should be in my book. Like many games, Boostball features OpenFeint for online leaderboards, making it easy to compare scores with. So if you are interested in a pretty fun little, soccer-related, time waster, check out Boostball on the App Store (click here).
Powered by

Sidelines
Previous Post Don't Miss EA Games' Fire Sale!
Next Post Standard Chartered KL Marathon 2010 21KM Race Report