Get More Out Of ZOOZbeat Sprite By Drinking Sprite!
Here's another reason to drink more Sprite (if you are in the US): Sprite is offering ZOOZbeat Sprite for the iPhone as one of its instant mobile rewards in its "Under the Cap" promotion. To find out how to get this cool iPhone app and unlock it for additional beats just by drinking Sprite, read on:
ZOOZbeat SPRITE INVITES PEOPLE TO SHAKE, TAP AND TWIST TO CREATE THEIR OWN ORIGINAL MUSIC MIXES
New iPhone App from ZOOZ Mobile and Sprite Is the Latest Offering in Sprite's Successful 'Under the Cap' Promotion
Atlanta, GA – December 21, 2009 – Sprite has teamed with ZOOZ Mobile, Inc., developers of the first mobile music studio, to launch ZOOZbeat Sprite, the first iPhone app to be offered through Sprite's ongoing 'Under the Cap' promotion.
When people enter Sprite cap codes via text message, they receive instant mobile rewards, including the new Sprite branded ZOOZbeat application. ZOOZbeat Sprite transforms iPhones into mobile music studios enabling anyone, to create their own tracks with downloadable beats and samples from top producers and artists like Dallas Austin.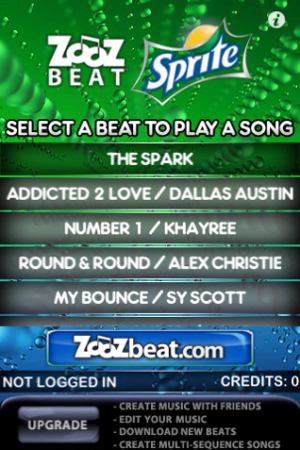 "With ZOOZbeat Sprite, we've combined the latest mobile technology with a creative musical approach to create our first iPhone app for the Sprite 'Under the Cap' program," said Santiago Blanco, Vice President, Sprite and Flavors, Coca-Cola North America, "ZOOZbeat Sprite gives people a whole new way to express themselves, spark their creativity and use their own movements to mix it up musically. All they need to do is enjoy Sprite and use their 'Under the Cap' promotion codes to unlock the app and more new beats."
ZOOZbeat Sprite works by shaking, tilting or tapping the iPhone screen to create and combine rhythmic and melodic tracks that can be uploaded to the web for listening and sharing in mp3 format with friends. Users can unlock additional beats within the application by twisting the cap off any Sprite or Sprite Zero and texting in 'ZOOZ' followed by the code under the cap. Sprite will then provide consumers with a ZOOZbeat Sprite code that can use be used to unlock more beats.
"Working with a brand like Sprite has been a great experience," said Scott Geller, CEO of ZOOZ Mobile. "Together we've created an application that's perfect for the iPhone and that offers a whole new way to connect more people with ZOOZbeat and Sprite."
Additional artists being featured on the ZOOZbeat Sprite app include Khayree (hip hop producer), Alex Christie, SY Scott, Novel, Sheed, Laron Brant and Spree Wilson.
ZOOZbeat has been downloaded more than one million times since launching on the Apple App Store and for more information on the product, visit www.ZOOZbeat.com. For more information on ZOOZbeat Sprite and the 'Under the Cap' promotion, please visit www.sprite.com.
Powered by

Sidelines
Previous Post iPhone Firmware 3.12? We Has It!
Next Post Video Game Purchases This Month