PlayStation 3 Slim First Bundle: It's Gundam
PlayStation 3 coverage continues here on Nine Over Ten 9/10. This morning, BBC News' website mistakenly mentioned that the Fantastic Four is from DC Comics when describing the new Digital Reader coming for the PSP. The mistake has since been corrected :P.
Anyways, check out what looks to be the first PlayStation 3 Slim bundle, the PlayStation 3 Slim Console – Gundam 30th Anniversary Box and it comes with a box that looks like one of those Gundam model kit boxes. It even has the Bandai logo on it.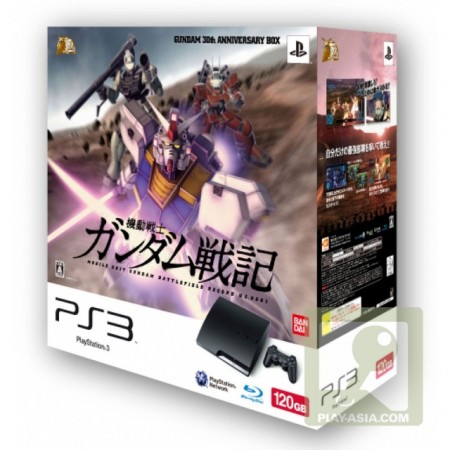 The console comes bundled with the first print edition of the upcoming Mobile Suit Gundam Senki Avant (a.k.a Mobile Suit Gundam Senki Record U.C. 0081) game and the rest of the package consists of the 120 GB PlayStation 3 Slim, 1 DualShock 3 controller, AV cable, USB cable, AC Power Cord and manual (in Japanese).
Scheduled for a September 09 release, preorders for this model kit, I mean, PlayStation 3 Slim bundle will be opening soon at Play-Asia. So keep an eye out for it, or better still, bookmark this link over here.
Powered by

Sidelines
Previous Post I Can Has Sony PS3 at 299?
Next Post iPhone Game Review: WordTrix