7 Elements (iPad) Game Review: Multitouch Comes For Match-3 Games
I think someone over at either CocoaChina or Bucca Studio has figured out to how to make me really happy, and that's by coming up with an excellent AND unique match-3 game. "Yeah right, a unique match-3 game". That would be a cynical but common response to my enthusiasm on 7 Elements, a brand new match-3 game by the two development studios mentioned earlier, for the iPad. Yup. there's still hope for the match-3 genre, read on to find out why.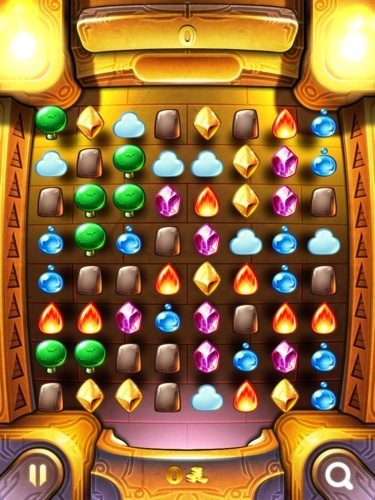 7 Elements features a really nice presentation, the 2D graphics remind me of games such as Luxor (there's a mild ancient Egyptian vibe going on in this game) and the special effects triggered by special pieces and power-ups are quite a sight to behold. But this isn't the game's killer feature. While most match-3 games are content with having you swap positions between two pieces on the board, 7 Elements, by virtue of multi-touch, allows players to swap positions of three pairs of pieces AT THE SAME TIME!
This enables players to create not only match 3 pieces, but up to 6 pieces at a time when usually you've to wait for pieces to fall into the right place to do so. Having this feature in the game means that gameplay is sped up and each play session is relatively shorter than that of other timed match-3 games. The timer is actually a set of flames located at the top left and right corners of the screen.
The game allows players to earn gold coins that will be used to unlock one-time use power-ups that need to be purchased before the start of the next play session. While it's possible to play the game without power-ups, you can purchase more coins to unlock more power-up slots for a maximum of three.
With an interesting implementation of multi-touch to traditional match-3 gameplay, 7 Elements has certainly managed to stand out from a sea of match-3 games out there. This and the premium looking graphics help make the game a compelling purchase for any match-3 aficionado. Nineoverten.com rates 7 Elements at a 4.5 out of 5. TOTALLY AWESOME.
7 Elements is now available on the iTunes App Store, check it out over here: https://itunes.apple.com/us/app/7-elements/id577696686?mt=8. A review code was provided to Nine Over Ten 9/10 for the purpose of this review
Powered by

Sidelines
Previous Post Fingstar (iOS) Game Review: Twister And Then Some!
Next Post HTC Butterfly Arriving In Malaysia End January 2013, RRP RM 2,299