Pocket Legends (iOS, Android) Celebrates 2nd Birthday, Premium Areas and Party Hats Abound!
It's Pocket Legends' 2nd birthday today and developers Spacetime are inviting everyone to join in by making all premium areas in this multi-platform (iOS, Android, Chrome) MMORPG free! These areas include Sandstone Caves, Skeller's Return, Croc Feud, Frozen Nightmares, Shadow Caves and Wyldwood.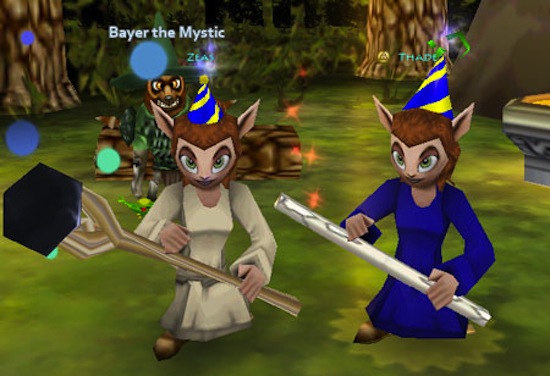 Users who had previously supported Pocket Legends by purchasing these areas, have been granted the exclusive "Frozen Crown of Gratitude" vanity helm, crafted from the best crystals from Frozen Nightmare's Frost King. Players should look in their Stash to find this unique item.
Pocket Legends players can join in the celebration by purchasing a 2012 Anniversary Party Hat. When wearing the hat, other players can wave to you and automatically receive their own, smaller party hat. At the end of the week long anniversary celebration, the 2012 Anniversary Part Hat will no longer be available to purchase and will no longer grant the smaller party hat.
Get the app right over here on your platform of choice: https://www.pocketlegends.com/
Powered by

Sidelines
Previous Post Bitmap Brothers' Z: The Game Now Available on Mac App Store
Next Post iFighter 2: The Pacific 1942 (iOS) Arrives on iTunes App Store