Bitmap Brothers' Z: The Game Now Available on Mac App Store
I remember this game! Bitmap Brothers' classic action strategy title, Z: The Game has now been remastered and made available on the Mac Game Store through digital publisher Kavcom. The seminal Bitmap title for Mac has been remastered to capture the essence of the breathtaking race to capture territory and resources.

Z: The Game on Mac features a unique score that follows the pulse-pounding action and real-time flow of the battle, along with the offbeat humour delivered through movie intros and outros, which defined Z as one of the definitive strategy games of its era.Players take control of an army of six robot soldier types, including the faithful grunt, and slug it out in a land grab for space supremacy across five planets, each with unique terrain, ranging from arctic wasteland to lands of fire and lava.
Whilst each of the robot soldiers is capable of performing up to forty different actions, they each posses a unique personality trait, adding another dimension to the tactical gameplay; will they carry our your orders and march into the jaws of hell, or will they chicken and run?
Your robot soldiers wield a heavy arsenal of weapons and navigate the environments in jeeps, three different types of tank and armoured personal carriers. Capture and control installations including factories where you manufacture robots and vehicles, radar and repair facilities. Play out your own strategy, but receive spoken prompts from robot leaders.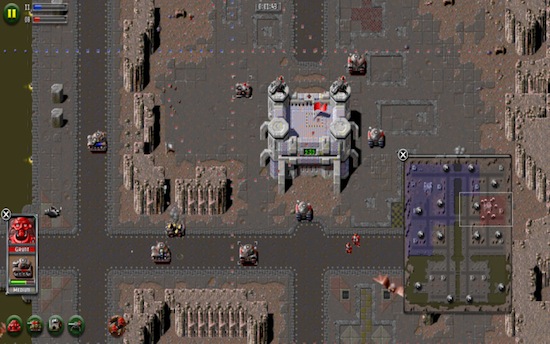 Z: The Game was developed by original creators The Bitmap Brothers (Speedball 2: Brutal Deluxe, Xenon) in conjunction with Kavcom, Peter Harrap (Monty Mole) and TickTock Games.
"With Z: The Game on Mac, we've been faithful to every last detail; from the spoken robot voice commands, right through to the range of hardware and factories that players can build and cultivate during battle," commented Mike Montgomery, one of the founders and sole owner of The Bitmap Brothers, "whilst the Mac trackpad interface enables the player to revel in the frenetic gameplay which is at the very core of the Z experience. "We're confident the gameplay of Z: The Game on Mac, combined with the charm of Commander Zod, will seduce fans, new and old."
Z: The Game is available on the Mac App Store for USD 6.99:https://itunes.apple.com/us/app/z-the-game/id504560232?mt=12
Powered by

Sidelines
Previous Post Atari's Pong Indie Developer Challenge Updated, Ups Revenue Sharing Period for Winners
Next Post Pocket Legends (iOS, Android) Celebrates 2nd Birthday, Premium Areas and Party Hats Abound!